GMCA unites with Food Waste Action Week to break the cycle
UK's second national Food Waste Action Week begins today, with GMCA joining as a partner.
GMCA will be supporting Food Waste Action Week with Week with social media promotion, digital and printed advertising and a webpage on the Recycle for Greater Manchester (R4GM) website dedicated to the week.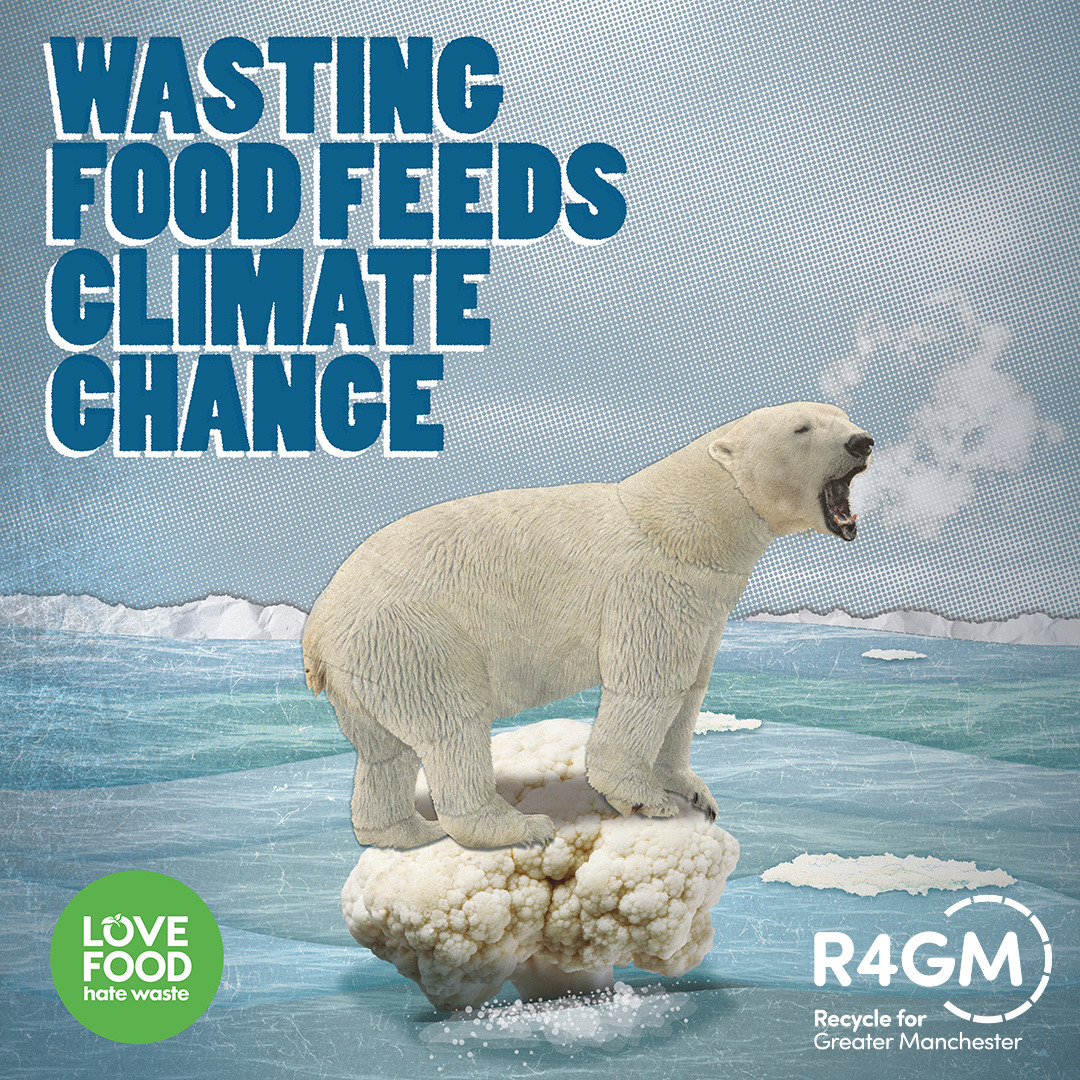 The second annual Food Waste Action Week begins Monday 7 March. It will raise people's awareness of the huge impact of household food waste on climate change and share practical advice, food savvy behaviours and tips on how we can all easily reduce the food we waste in our homes.
GMCA will be supporting Food Waste Action Week across social media, digital advertising and on the Recycle for Greater Manchester website. The GMCA will also be working with the nine local authorities across the city-region that form the waste disposal authority to raise awareness of the campaign with residents. R4GM is committed to helping residents waste less at home and recycle right, and during Food Waste Action Week will be sharing tips and information from Love Food Hate Waste to help inspire residents to take small actions to reduce the food they throw away. This week supports an ongoing campaign (Buy Keep Eat Repeat) from R4GM to raise awareness around the link between food waste and climate change and encourage residents to reduce their food waste as much as possible.
"Climate change is already having a devastating effect on weather across the world, from melting ice caps to bushfires. We can also see the effects here in Greater Manchester with flooding and storms causing major disruption across our region.
"Wasting food has a huge impact on climate change. We can all do our bit to prevent food waste by planning our meals, storing food properly and using leftovers. With more than 2.8 million residents living across Greater Manchester, if every one of us took simple steps to reduce the amount of food we throw away, we could make a real difference."
Love Food Hate Waste is keen to show that used properly, the freezer is the king of the kitchen. In fact, freezing and defrosting just three key meat items that are commonly not used in time (fresh chicken, bacon, and sausages) could reduce waste of those items by as much as 15,000 tonnes per annum. And, when it comes to defrosting, busy households can avoid a lengthy overnight defrost by using their microwave instead – as people use a toaster to defrost sliced bread from the freezer.
Working together, we can prevent food being wasted needlessly and protect the planet.
Notes to editor
Recycle for Greater Manchester is the customer facing brand of the waste disposal authority now part of the GMCA. We are responsible for the management and disposal of municipal waste from Greater Manchester (Formerly known as Greater Manchester Waste Disposal Authority).  We handle around 4% of the UK's municipal waste. 
This is approximately 1.1 million tonnes of waste and recycling each year from over a million households from the metropolitan districts of Bolton, Bury, Manchester, Oldham, Rochdale, Salford, Stockport, Tameside and Trafford. Wigan operates as a unitary authority and administers its own disposal arrangements.
Visit www.recycleforgreatermanchester.com for more information.
The figure of 25 million tonnes CO2e is based on the total household food waste of 6.6 million tonnes (including edible inedible parts).
Love Food Hate Waste aims to raise awareness of the need to reduce food waste and help the UK public act. It shows that by doing some easy practical everyday things in the home we can all waste less food, which will ultimately benefit the environment, and our pockets too. Love Food Hate Waste is managed by WRAP.
WRAP is a global NGO based in the UK. It is one of the UK's top 5 environmental charities and works with governments, businesses and individuals to ensure that the world's natural resources are used more sustainably. It is the charity leading the UK Plastics Pact (a world first), Courtauld Commitment 2030, Textiles 2030 as well as the citizen campaigns Love Food Hate Waste, Love Your Clothes, Clear on Plastics and Recycle Now. It also runs Food Waste Action Week and Recycle Week in the UK. WRAP works collaboratively and develops and delivers evidence-based, solutions to reduce the environmental cost of the food we eat, the clothes we wear and the plastic packaging we use. Founded in 2000 in the UK, WRAP now works with partners in forty countries, across six continents and is a Global Alliance Partner of The Royal Foundation's Earthshot Prize.