We are supporting the Greater Manchester Ageing Hub's celebrations for International Day for older persons. Sow the City, who we are working with on our composting projects, have written this blog about how composting can be done in small spaces, when you don't have access to a large open space.
Get your discount on Bokashi & compost bins here.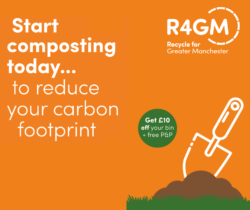 Composting doesn't need lots of space, time, and energy. There are simple, cheap, and efficient ways that you can get composting right now, in small spaces, balconies, and even indoors.  
Creating your own compost helps save money, helps you grow healthy indoor and outdoor plants, and minimises your impact on the environment. Below are some tips to composting when you have limited space to work with. 
Worm composting / vermiculture 
Looking to make use of a wide variety of kitchen scraps? Vermi-composting may be the answer! This method uses a bin full of worms to break down peelings and cardboard, to produce a harvest of wonderful worm-fuelled compost for your house and garden plants.  
A worm bin will take up very little space and can even be placed in a cupboard or under the sink in your kitchen. You can buy a ready–made worm composting kit or make one quite easily yourself. And don't worry – the process is fuss and odour free. 
Composting with worms can take as little as three months, worms will eat a wide variety of food waste, like the items you'd stick in your food waste recycling bin – avoid citrus, onions, bread, meat, and dairy. Vermi-composting requires very little physical effort to maintain compared to a typical composting which works best with regular turning. 
You can make your own wormery using materials found at home. Take a look at this video for a simple how to guide. The worms used for composting can all be bought online! Choose brandling, manure, red or tiger worms for the best results. 
Bokashi
Another option is the exotic sounding bokashi! The word is Japanese and translates to "fermented organic matter". This technique coverts your kitchen waste into a fermented soil supplement in as little as 10 days. You can compost an even wider variety of kitchen scraps in this way, including fruit, veg, meat and dairy. The special ingredient is a bokashi inoculant, this is usually made up of some kind of wheat germ or sawdust with molasses, which acts as food source for a micro-organism. This inoculant can be bought quite cheaply online, or you can even make your own. 
The whole process happens in a bokashi bucket, which has an airtight lid and a tap at the bottom to drain off any liquid preventing the bucket from getting too smelly. What's created after a couple of weeks is a fermented mixture which can be dug directly into the soil or added to a compost bin.  
Recycle for Greater Manchester are working with Get Composting to provide residents in Bolton, Bury, Manchester, Oldham, Rochdale, Salford, Stockport, Tameside, and Trafford the opportunity to get a discounted price on bokashi bins! 
Using ground coffee as a top–dressing
If you love a brew, and you love your house and garden plants, it's win-win with this simple technique! Coffee grounds act as a natural fertiliser, and can provide a healthy dose of nitrogen, an essential nutrient for plant growth and metabolism. Using coffee can deter pests, improve soil quality, and even keep cats away.  
The best way to use coffee grounds on your plants is to apply as a mulch or top-dressing to the soil. Around a spoonful of coffee grounds can be added every 4 to 6 weeks. Some houseplants particularly enjoy coffee grounds including peace lilies, Christmas cactus, miniature roses and jade.  
Coffee can also be added to an existing compost heap, or you can use leftover cold liquid coffee mixed with tap water to make a simple plant fertiliser.  
Find out more about using coffee as a fertiliser in your home and garden here.