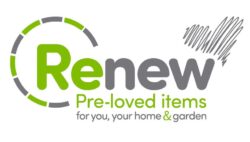 We've opened three Renew shops in Greater Manchester. These shops sell pre-loved household items at an affordable price and are located at three of our recycling centres.
The shops stock a wide variety of homeware, garden furniture, toys, sports equipment, books and more. Items have been donated by residents and cleaned and repaired before being handpicked by staff for the shops in Eccles, Oldham and Altrincham.
The aim of the Renew shops is to reduce waste, reuse unwanted items and increase recycling rates. Many of the items donated by residents would have otherwise gone to waste.
Renew shop locations:



| | |
| --- | --- |
| Opening Times | |
| Monday | 10am – 6pm |
| Tuesday | 10am – 4pm |
| Wednesday | 10am – 4pm |
| Thursday | 10am – 4pm |
| Friday | 10am – 6pm |
| Saturday | 10am – 6pm |
| Sunday | 10am – 6pm |
All money raised by the shops will go to support local communities through two Greater Manchester initiatives. Each year money raised through sales made in the Renew shops will be donated as follows:
Donate
To ensure the Renew shops are regularly stocked, we are encouraging residents to donate their unwanted items. There are donate containers at 15 recycling centres across Greater Manchester. Items can be cleaned and repaired.
Compost
We are now selling bagged compost at our Renew Shops, which is made from food and garden waste from across the North West. It is Richmoor compost which is naturally peat free.
Prices are as follows
3 bags for £10.00
1 bag for £3.75