The One Trafford Partnership are continuing to tackle contamination of blue recycling bins by checking them and placing tags on bins that contain the wrong items.
One Trafford are asking residents to recycle right by removing any wrong items from the blue bin before their next scheduled blue bin day. Any blue bins that contain the wrong items will receive a tag on the handle of the bin and will not get emptied.
Recyclable paper and card items, such as letters, envelopes, junk mail, magazines and catalogues, cereal boxes, cardboard boxes, card egg boxes and shredded paper can go in the blue bin.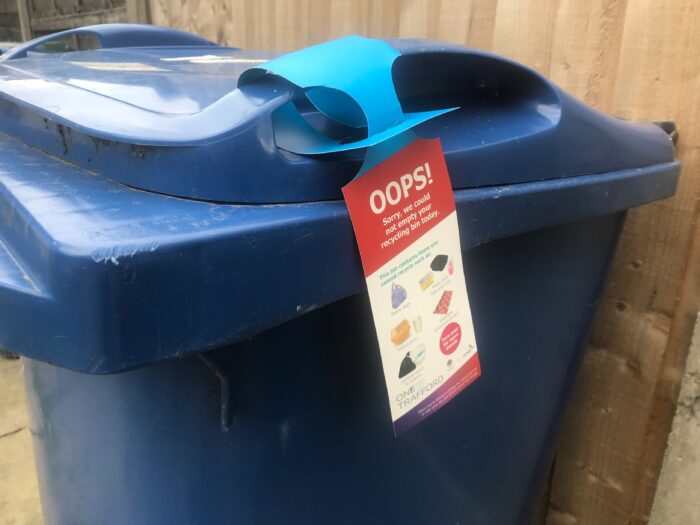 If blue bins containing the wrong items are emptied into a bin lorry, it can spoil the whole lorry load meaning it cannot be recycled. The load will then be treated as general waste.
So far this year 276 tonnes of paper and card collected in blue bins couldn't be recycled due to wrong items. Items include clothing and rugs, extension leads, nappies stuffed into cereal boxes, a whole cake still in the box, and plastic bags – all of which have been hidden in the blue bin.
Unfortunately, that's 9,200 blue bins worth of paper and card gone to waste and has resulted in an additional taxpayer cost of £24,800 in disposal fees.
Cllr Stephen Adshead, Executive Member for Environment, Air Quality and Climate Change, said:
"We know that most people in Trafford recycle but we need everyone to put the right items in the right bin. But unfortunately we are finding a lot of wrong items in paper and card bins. 6,500 households, in areas of the borough where lorry loads of paper and card have been rejected at the sorting centre, have received a letter asking that we all play our part to recycle right. The letter also includes a paper recycling guide.
Unfortunately, we are finding so many wrong items, that the sorting centre is not able to remove them. By recycling right, we don't have to spend money on additional disposal fees; money which could be better used for other essential public services"
The list of what can be recycling in the blue bin has not changed and residents are asked to check the recycling guide back of their collection calendars. Alternatively, residents can visit the Trafford council website to download a recycling guide.
Trafford Council has a recycling rate of 57.8% in 2018/19, which is above England's average household waste recycling rate of 45.1%.