Our latest guest blog post is from Sow the City – a social enterprise that empowers communities to grow and live sustainably. Over the next year Sow the City will be encouraging people to take up home composting because everyone can benefit from composting, especially the planet. 
Jon from Sow the City reports on why he thinks composting is important and the support Sow the City will be providing…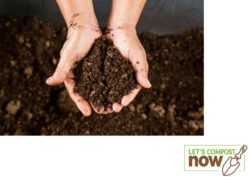 You may have stopped using plastic straws, swapped cleaning products for greener alternatives, and started to cycle and walk more. The next obvious step is to start composting. It helps to reduce food waste, improve our vital urban greenspace, boosts biodiversity, and improves soil health.
According to the UN, if we continue to degrade soil at the rate we are now, the world could run out of topsoil in around 60 years. Composting is more important than ever because it can replenish soil nutrients that have been lost due to unsustainable farming practices, using agrochemicals and excessive ploughing and tilling. Home composting can also reduce peat extraction because it offers an excellent alternative to peat-based composts.
Over the next year Sow the City will provide information and advice so that anyone in Greater Manchester can have a go at composting. We promise, a small space doesn't have to be a big challenge! Gardens, allotments, yards and even your own kitchen, all have the potential to provide an abundance of nutrient-rich compost to help your garden and the planet. We will show you how to choose the right type of composting to suit your situation, and how to make sure the compost you produce is high quality, fast and hassle free. We'll look at some compost misconceptions and provide easy solutions to common composting problems.
In addition to regular blogs, Sow the City will be providing insightful video tutorials and radio content with composting gurus from across Greater Manchester, and we'll be working with schools and community groups to kick start new community composting schemes.