Holly shares with us all about Want Not Waste (WnW), a student project that has created a zero-waste shop and what they have been doing during lockdown and beyond.
---
In the beginning…
Zero waste shops have been popping up all over the country in the last couple years initially in response to the plastic crisis and developing to provide so much more in the way of sustainability. Want Not Waste is a student project operating primarily as a zero-waste shop, but which also provides workshops and events within the University and in the wider community. Our ethos is making sustainable living accessible and affordable for all and to provide a one stop shop for all your eco-needs. We seek to provide a friendly community both online and in person, to share and learn about environmental sustainability without judgement.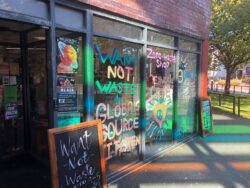 Want Not Waste opened officially in February 2019 as a pop-up shop but now enjoy a spacious premise within the Students' Union on campus. The team started off a just a few passionate students but is now home to a team of 30 from many degrees, backgrounds and Universities including Manchester Metropolitan University and Royal Northern College of Music. As a not-for-profit project, we are able to sell products at a very low cost and provide learning opportunities to students wishing to develop new skills. Aside from the basic groceries, WnW provides essentials for cleaning, beauty, fashion and a whole range of TerraCycle schemes- everything the conscious consumer could desire!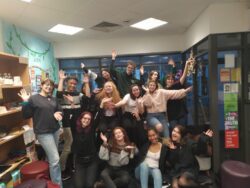 What makes us different to other zero-waste shops is our energy and approach. We strive to source as much of our stock from student enterprises, small businesses, graduate start-ups or campaign merchandise. We are a hub for social justice and any individual or group knows that they can come to us for support either through advertising, event collaboration or stocking their products. What you'll find on our shelves often are limited edition or made on demand which makes our shop an exciting place to be as things are always changing!
WnW in lockdown…
In lockdown, WnW has closed its physical doors temporarily, but have made the most of this time to work on our online presence. This has taken the form of Instagram takeovers, Facebook workshops and weekly blog posts. Recently, we received 4 awards at the Making A Difference Manchester Social Responsibility Awards, recognising the incredible work of our team this year. The success of this project is down to the enthusiasm and passion of those inside and the support of those outside.
Looking to the new normal
In the next academic year, there is still uncertainty as to when our doors will reopen but we are currently exploring some very exciting options to adjust to a socially distanced campus. Stay tuned for that! Whether we re-open fully or not, our focus is to draw more attention to the wider picture of sustainability, break down complex themes like power sourcing, carbon offsetting, sustainable cities and the UN Sustainable Development Goals. We are working on some great virtual events between staff, students, and the wider community. If you have ideas for collaboration or want to work together on some awesome sustainability projects, please get in touch!