Meet Kim from That Toy Thing, a pre-loved toy hiring organisation based in Salford.
---
When it comes to toys – reduce, reuse, recycle is not enough. We must reduce, reuse and reuse again.
"Reduce, Reuse, Recycle" – a famous catchphrase I remember being used by Bob the Builder on children's TV over 15 years ago, and one used many, many times since by lots of different businesses and organisations. This was at a time when recycling was only just being introduced into many households across the UK and councils.
While we may have come a long way from those (really) small recycling boxes from the 1990's, there's one type of item that is still a bugbear for many families when it comes to recycling; Toys.
Whilst British parents spent £3.3 billion on toys in 2018, it is a sad fact that many thousands of them sit unused in drawers and cupboards not being played with – an average of 4 toys per child! Many families we work with report feeling like their house is 'full' of toys that they want to get rid of because their children no longer play with them, but they just haven't found the time to go to the charity shop. In addition, recycling centres cannot process plastic or even wooden toys, because of the amount of mixed materials within them – meaning that over 90% of toys are completely unrecyclable. Parents who want to declutter are then faced with a choice – find the time to donate or chuck toys away, meaning millions of perfectly good toys go to waste We've learned that 1 in 3 parents just in the North West admit to throwing away perfectly good toys.
On the other end of the scale, 52% of families in Greater Manchester are living in poverty and children are missing out on good quality toys to help with their development because the price of toys just keeps rising. Many families on low incomes buy toys from pound shops or get themselves in debt trying to provide the latest toy trend going around.
What if there's a way to help save the planet from thousands of toys going to waste, and help parents to save money and still provide great toys for their children to play with?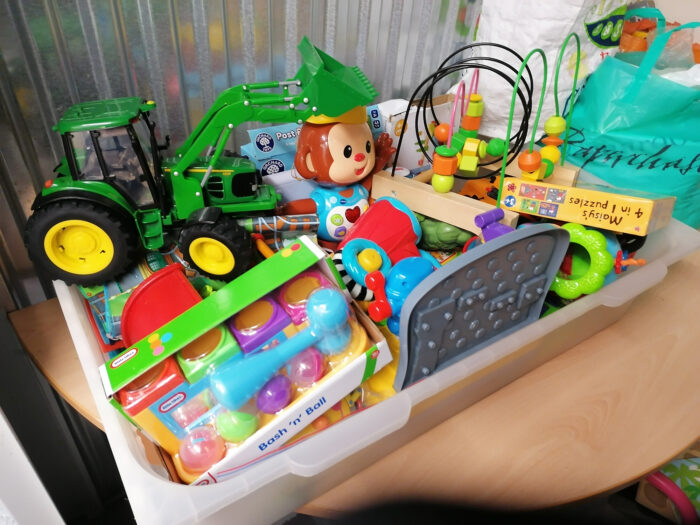 Our new project – That Toy Thing – does just that. Based in Salford and working all over Greater Manchester, our mission is to help families play more sustainably, whilst saving money and reducing plastic waste and clutter. When it comes to toys, our mantra is that it is not enough to simply reduce, reuse and recycle – we must reuse and reuse again as much as we can.
We're collecting good quality pre-loved toys from all over Greater Manchester and we'll be cleaning them up and hiring them out in different packages for £5, 10 or £15 per month. Subscribers will be able to choose the toys they want and get them delivered to their door, and hire them from us month by month. At the end of the month, they'll be able to choose whether to renew the same toys or hire new ones. And of course, health and safety is one of our biggest priorities – all toys will be cleaned and inspected to make sure they are suitable for use before we hire them out.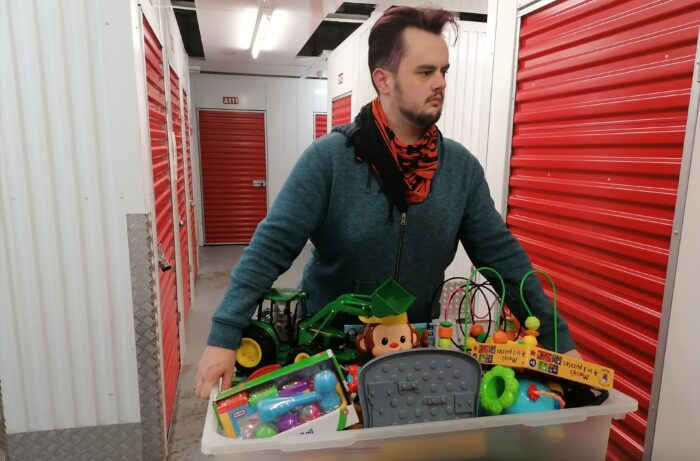 Our aim is to start changing the habits of families in Greater Manchester by getting them to 'borrow' rather than 'buy' brand new toys. We're making sure that toys can be reused again and again by children who need and want them – and they are not just sitting in a cupboard or under someone's bed.
After being delayed due to Covid-19, We're now planning a free months trial for up to 60 families across Manchester, to collect feedback and gain some insight into how we Kickstart our project, before launching properly.
We need our community to help make this a success – if you want to get involved there's lots of ways to help!
You can help by:
donating some toys or books to us – email us thattoything@gmail.com or message us on Facebook.
registering your interest in being part of our free trial and focus groups as a Founder member
volunteering with us – we'll need toy testers, drivers, admin, toy sorters and cleaners as well as help with logistics for our trial and beyond.