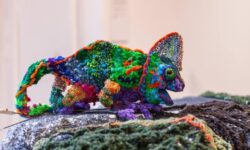 Amanda Beck-Kim is a textile artist who became inspired to create artwork using materials that would otherwise be thrown way when she was on an Embroidery and Textiles course at Manchester Metropolitan University.
Since then, she's used her skills to run creative sessions in schools as she feels it's important to inspire children to learn about recycling and the importance of protecting our natural world from a young age.  
In her school sessions Amanda uses materials such as plastic bottles, cardboard, aluminium coffee capsules, pipe cleaners and telephone wire to inspire young children to create artworks about environments such as rainforests and coral reefs 
Amanda has also used these materials for big commissions for Manchester Children's Hospital and Wigan Drumcroon Legacy project.
You may have also seen her work featured in the second series of the children's TV programme Junk Rescue in an episode called Old Wire.
Amanda sources her materials from wherever she can find them. For example, she used telephone wire to make 'telephone wire bugs' from wire that was going to be discarded from an engineer's yard. She salvaged pipe cleaners to make 'pipe cleaner puppets' from a company that was closing down and people she knows give her materials that they think she could use. Amanda also started asking for materials on her local Facebook page Re-use and Recycle in Chorlton  
Find out more about Amanda's work, what have you got lying around the house that you could reuse?