Lauren Hutchinson, better known as The Rock Fairy, works with upcoming rock bands to bring their music to as many people as possible between offering artist development services and her own radio show. In March 2019 she embarked on the daunting task of reducing the impact the rock community has on our planet, particularly with regards to the use of single use plastics, with her project #EarthFriendlyRocker. Since then she has supported bands to go completely plastic free with their merchandise packaging, create more sustainable merchandise for their fans and encourage the rock community as a whole to start their own journey to becoming more earth friendly.
Working in the "emerging" side of the music industry, I work with a lot of bands who, for want of a better word, are skint. It can be really tough to challenge the perception that you can make a difference at this end of the spectrum because it's generally believed that becoming more earth friendly equals spending a fortune. Of course that can be the case but it doesn't have to be and that's why I set up my #EarthFriendlyRocker project. I'm on the very same journey myself and I want to remove some of the challenges that I've already found (and managed to overcome) for people who want to follow the same path.
I started off with the two bands I manage, The King Lot and Black King Cobra. I fulfil their merchandise and was sick of sellotape and mailing bags so decided to try and go plastic free which, after a lot of trial and error, I managed to do! I now use postal boxes and paper tape. I've found a welcome side effect of this has actually been to reduce postal costs. For example, I can now send t-shirts as a large letter instead of a parcel. I've set up a challenge for other bands to follow suit and become completely plastic free with their merchandise packaging by 2020 which I've had a fair few bands sign up for. I can't wait to see how everyone gets on. I'm supporting bands with switching to more sustainable merchandise too, one of the merch lines I've supported with is made from recycled plastic bottles!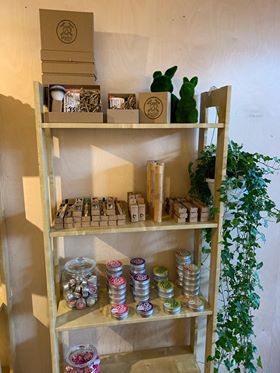 My #EarthFriendlyRocker store is the main way I fund the project itself. My store brings together exciting upcoming eco-brands in one place for people to start their own journeys. I have everything from natural deodorants, bamboo toothbrushes and earth friendly glitter to bamboo guitar picks and cakes in a bottle! The majority of the brands I stock are UK based and are all upcoming entrepreneurs who share the same values as myself which is important to me. I'm mainly online but I've taken the plunge with a physical pop up store for a month to see what people think. I'm hoping people love it and it inspires them to start their own journeys too.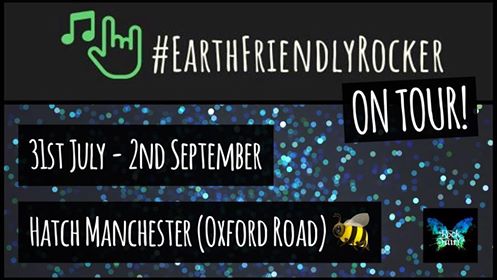 You can find the #EarthFriendlyRocker pop up shop at Hatch on Oxford Road until the Tuesday 2nd September and online at earthfriendlyrocker
If you're in a band and interested in joining the #EarthFriendlyRocker movement, drop an email to hello@therockfairy.co.uk