I've always wanted to have a go at stand-up paddle boarding and then the chance came to have a go one sunny Sunday morning along the Rochdale canal. The paddle boarding was free – in exchange for picking up litter out of the canal as you go along!
It was organised by Plastic Patrol and the instructor was Lizzie Carr who has paddled all over the UK inland waterways. On her journey, she plotted areas where there are areas of plastic pollution and vowed to do something about it.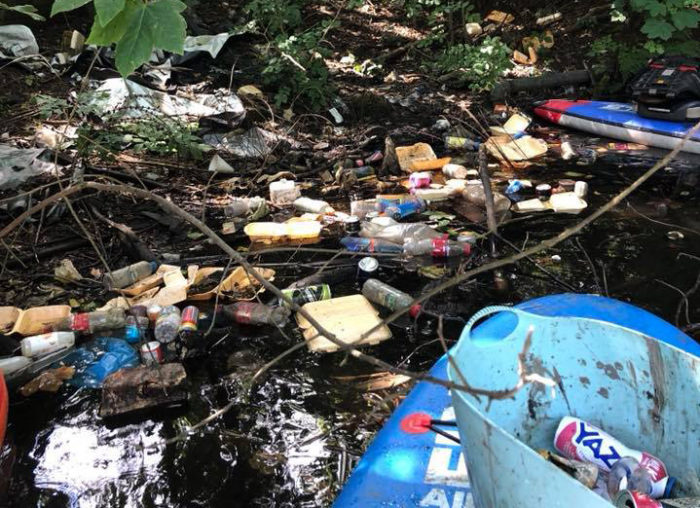 My daughter (who works for the Environment Agency) and I thought it was great idea to have some fun whilst doing something good for the environment.
I had anticipated falling in – so had decided on swimming gear under leggings and my Recycle for Greater Manchester t-shirt. Lizzie told us that no one falls in and recommended kneeling until we got used to it!
After meeting the rest of our group, donning a life jacket and a quick lesson in how to paddle, the first task was getting on the paddleboard. I found crawling onto it on all fours and staying kneeling the best option and a few nervous wobbles later I was heading towards the opposite bank.
Each board was equipped with a bucket for the waste and a litter picker. As we moved gently along the canal, I found it easy to control the board whilst picking out the litter and there was a lot of it. We soon filled our buckets with all sorts of stuff but especially plastic bottles and cans. As a recycling education officer, I was dismayed by the amount of waste that could and should have been put into household recycling bins.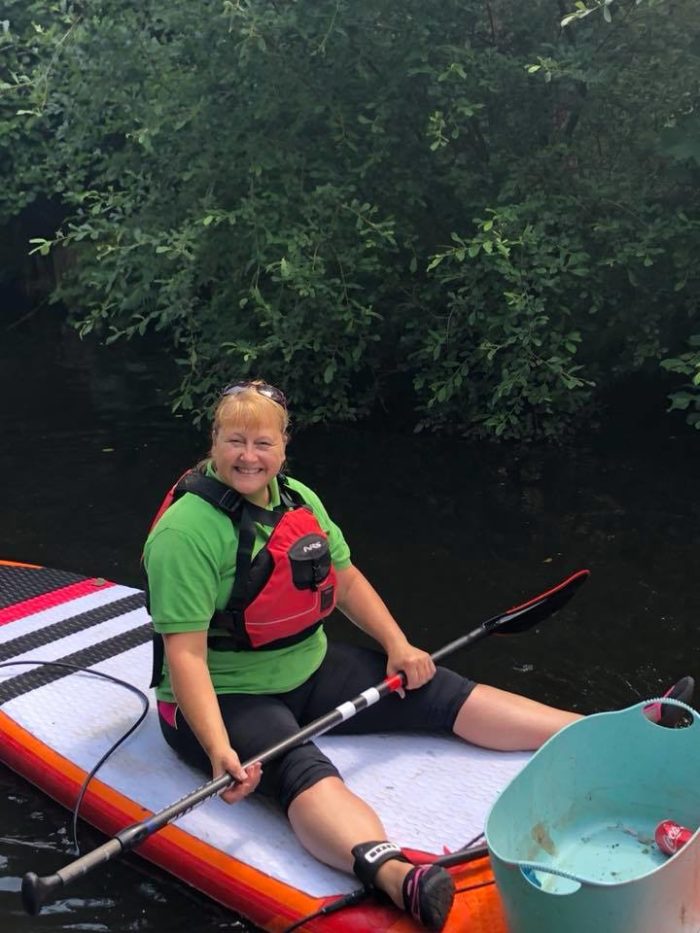 It was really nice when passing members of the public thanked us for what we were doing. Kneeling became a little uncomfortable and as I had become a bit more confident on how stable the board was, I carefully shifted my weight to sit down for a while and carried on litter picking.
With our buckets full, it was soon time to head back. Lizzie encouraged us to try standing up for the return journey, so I again shifted my weight and slowly stood up with trembling knees. I did it!
I loved just punting along in the sunshine chatting to other like-minded people and Lizzie was right, no one fell in! Between us, in just one hour, we picked about a tonne of waste out of the canal.
These events are organised all over the UK so why not get involved and have some fun whilst doing your bit.
To find the next Plastic Patrol event in your area, check out their website or follow them on Facebook.