Here at Recycle for Greater Manchester, we love seeing the creative and inventive things that people do to make recycling easier and more efficient. So when we got a phone call from Peter, an 87-year old south Manchester resident, describing the modifications he made to his kitchen, we couldn't wait to see the photographs.
We were blown away when we saw what retired dentist-cum-inventor Peter had done. We think his idea of recycling straight into his wheelie bins is absolutely brilliant!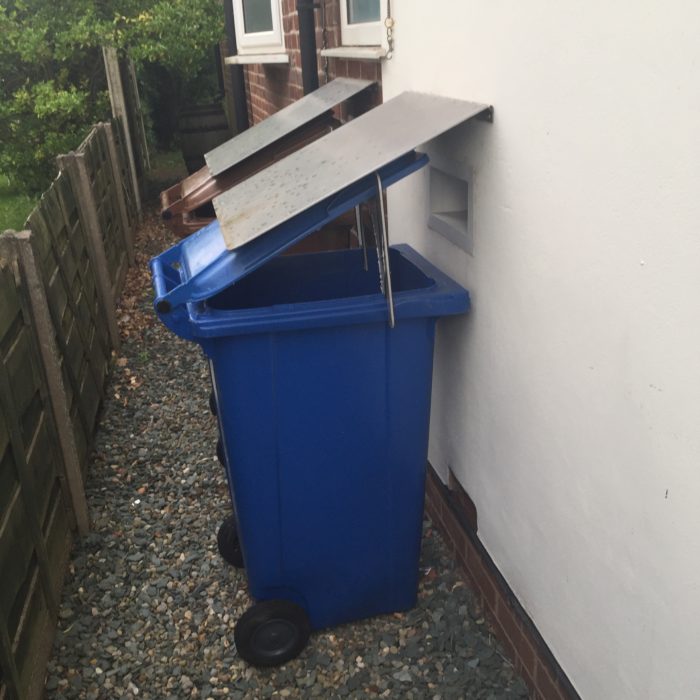 When Peter moved into his house 8 years ago, he realised that the best place to put his wheelie bins was outside the kitchen. As someone with a history of inventing new things, Peter quickly thought of a great way to make recycling much more efficient. All he needed was two small holes in the kitchen wall and some specially designed parts.
So when he started renovating his kitchen, Peter cut two holes into the wall, one for his paper and card recycling and one for his mixed recycling. For the outside, he created a flap which covers the bin and something to keep it open. When its bin collection day, it folds down and covers the hole. For the inside, he made a little door with latch so he can easily shut it and keep his home secure.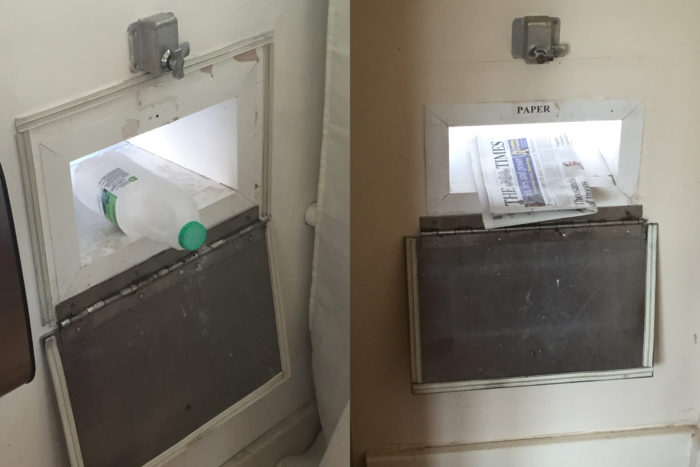 To Peter, this was the most logical way to make recycling easier and it just seemed like common sense.
Peter explained why it works so well, "There are lots of benefits to it. It's very easy to keep the kitchen tidy because I don't need separate recycling bins in my kitchen. When I've finished reading the newspaper it goes directly in the wheelie bin. When I have finished a bottle of milk, it goes straight in the bin. It's so much easier to do more recycling without giving it a thought. And when the bins are due to be emptied, there is nothing more to do than to just take them out to the street."
Thanks to Peter's excellent design, he has never had any problems with cats or other animals getting inside his home because the hole is too far from the ground. The outside cover fits perfectly over the holes and the recycling bins so that no rain can get in, while the inside cover ensures that there is no draft.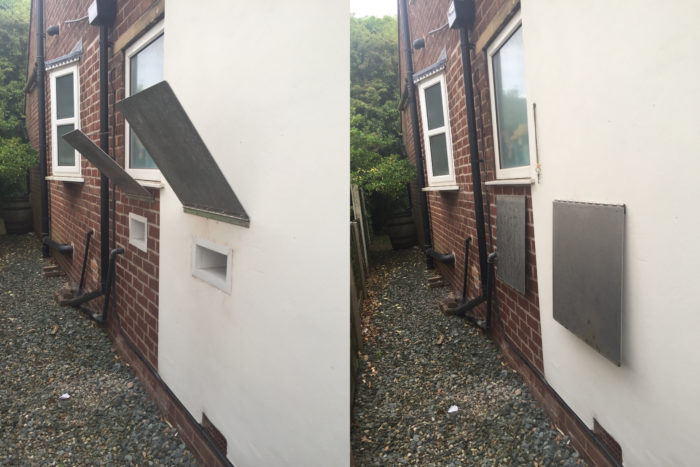 Everyone who has seen Peter's kitchen modification has been very impressed but as far as we know, no one else has done anything similar to their own homes. Peter hopes that by sharing his story that more people will benefit from his fantastic idea.
What do you do at home to make recycling easier? Do you have any space saving ideas? Let us know in the comments below or send us a message on Facebook or Twitter. We'd love to hear about any other creative recycling concepts!