Our latest guest blog post is from Victoria at Just Helping – a charity  that partners with hospices and community groups to manage Christmas tree collections throughout the UK.
---
It's the weekend before December, if you haven't already,  its nearly time to put the Christmas tree up and decorate it to mark the start of the festive period.
When thinking about picking your tree, you should also think about what you're actually going to do with it once Christmas is over. 
That's where we come in. Our Christmas tree collections happen all over the country and are a fantastic way to discard of your tree. Here's why we think you should consider recycling your tree this year… or #TREECYCLING as we like to call it! 
It saves you the hassle
Nothing screams more that Christmas is over than a limp, drooping and wilted Christmas tree. Your festive mood is soon gone and you're snapped back into reality once you realise you are responsible for cleaning up the mess of the needles on the floor, as well as for removing the tree from your home, cutting it down and taking it to the Recycling Centre. By having your Christmas tree collected by us and recycled once the festivities are over, you are saving yourself all the hassle of this, as well as avoiding pricking yourself on those sharp needles! All you have to do is simply leave your tree outside somewhere visible on the date of your collection and the rest is up to us.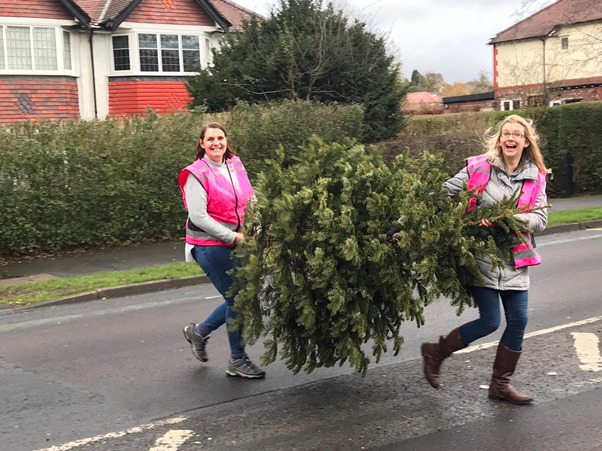 It's good for the planet
Once we collect your tree we will put it through a chipper machine, your tree could be used for paths, gardens, parks or even as mulch on farmland.  Some of our trees are also planted again in woodland areas which creates a border around reservoirs, protecting the public from accessing the water as well as allowing for a new habitat for birds, mammals, insects and plants to thrive.  
It does good for charity
If all the above still hasn't convinced you to have your Christmas tree recycled, why not take pride in the fact that you will be doing something amazing for charity. We work in partnerships with hospices, community groups, other charities and local businesses to coordinate our Christmas tree collections. By simply registering your tree with us and making a donation towards the collection, you will be helping a local hospice in your area. 
If you'd like to find out more about our Christmas tree collections, or simply see which local hospice you could be helping, visit the Just Helping website.
Follow us
Twitter- JustHelping @charityxmastree
Facebook- JustHelping @charityxmastree