I am a huge potato lover but as someone who lives alone, even I can rarely get through a whole bag of them. Last weekend, I looked in my cupboard and found nearly a whole bag of sprouting spuds. After making some roasted wedges, I still had a kilo left so decided to try and make gnocchi!
I am not the best at following recipes so here's my version, inspired by a few different ones I looked at online. They were really easy and fun to make, and would be a great activity to do with kids. They make not be the prettiest, but they tasted great!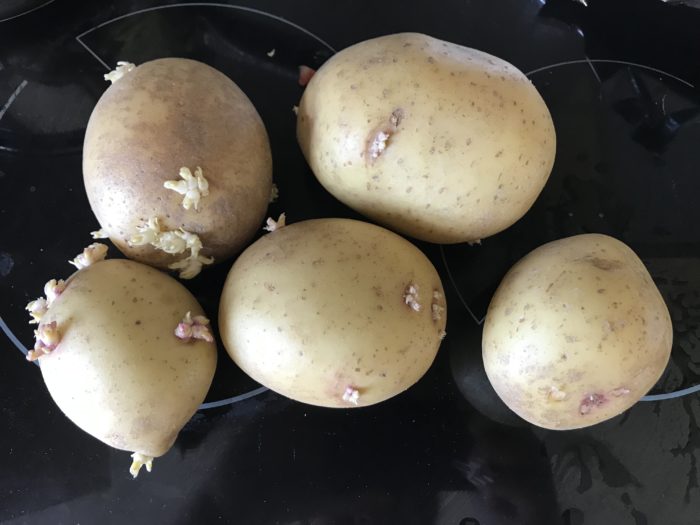 Ingredients
1kg of potatoes
350g plain flour, plus extra for dusting your worktop and hands
½ tsp salt
1 whisked egg
Method
Peel and cut the potatoes and boil in salted water until soft.
Drain and mash the potatoes. You need to mash them really well so there's no lumps. If you have a potato ricer, use that or you can push them through a sieve.
Scatter a clean kitchen surface with 300g of flour. Put the mash on the floured surface. The mash potato should be hot but be careful to not burn yourself.
Make a well in the potato and add the egg to the mashed potatoes.
Dust your hands with flour and mix it really well. Add more flour if you need to – I added around an extra 50g.
Set the dough aside and wipe down your surface and dust with more flour.
Flatten down the dough mixture so it's about 1.5cm thick.
Cut it into 1cm strips and roll each strip into a sausage shape.
Cut them into 1cm wide segments
Dust them with flour and roll over a fork.
Leave to cool on a flour-dusted tray.
Cook in boiling water. When they rise to the surface, count to 10 and they are done. Serve with a sauce of your choice!

Top tip
Once your gnocchi has complete cooled, you can freeze it. Just make sure you cook it from frozen. Defrosted gnocchi turns into an unappealing grey mush (Sadly, I'm speaking from experience).