Read our latest guest blog post from Lisa at Nationwide Cycling Academy (NCA)
---
Here at the Nationwide Cycling Academy  and Urban Cycle Centre, cycling and recycling is the focus of everything that we do. We realise the importance of looking after our natural environment while doing all that we can to fight climate change and protect our wildlife and ecosystems.
Keeping Greater Manchester moving
Life has turned out to be somewhat different in 2020. The Coronavirus crisis has had an impact on everyone in one way or another. One silver lining that has been found in this dark situation is the surge in demand for bikes along with the increased interest in cycling. Since the UK entered lockdown more thought has been needed over modes of travel to ensure that social distancing can be maintained. Lockdown has motivated people to seek out two wheels as a way of avoiding public transport.
We have been working with Transport for Greater Manchester (TFGM) to provide essential NHS key workers with bikes. This has then been embedded further with Dr. Bike services, with the help of Cycling UK, to support key workers to keep their wheels moving and encourage continuity.
We also work with TfGM to provide bikes to job seekers and apprentices to enable them to cycle to work. In this way we facilitate happier, healthier and more affordable journeys. Cycling is also a great way to boost happiness and mental wellbeing meaning travelling by bike has got to be an appealing option.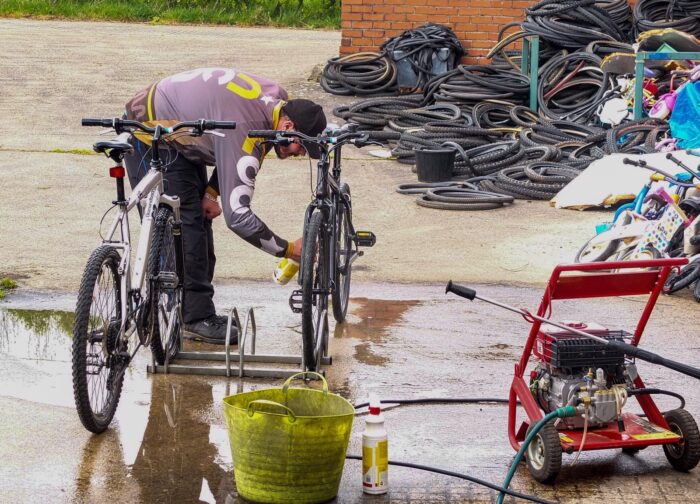 Bike Donations
We always welcome bike donations. Our mechanics are amazingly talented and work to refurbish bikes and bring new life to them at a fraction of the cost of a new bike. Should a bike not be repairable this can always be stripped down and used for parts. We are now part of the Schwalbe inner tube recycling programme which uses a specially developed process to recycle used inner tubes into new ones.
We do all we can to promote cycling the healthy and sustainable form of travel that it is. We offer bike maintenance training and road safety training which are both crucial to giving people the confidence to cycle and keep cycling.
Cycling lessons
We also offer 1 2 1 Learn 2 Ride sessions for children and adults who want to be able to ride a bike. We have seen an increase in demand from adults wanting to learn how to ride. Mums and  Dads who have wanted to be able to ride with their children as part of quality family time. Adults who had never learned how to ride a bike but have been motivated by seeing friends out on their bikes. There has been an increased focus on spending time outdoors as a family and cycling is the perfect way to be with family and friends while maintaining social distancing.
Recycling matters
Recycling matters and cycling matters. Riding a bike is healthy, fun and a low-impact form of exercise for all ages. Bikes are an important way in which we can remain healthy and happy whilst protecting our environment. Along with walking, riding a bike is the ideal form of sustainable travel. We have put additional measures in place in all of our processes to ensure we can keep everyone safe and minimise any risk of virus spread.
Find out more about NCA
To donate a bike, email info@ncagb.co.uk