Miranda, a volunteer at Chorlton Repair Café ran by Stitched Up shares with us how the fix-it experts take up the challenge of repairing jeans to necklaces to radios in just 2 hours!
It was another successful Repair Café at Stitched Up. The fix-it experts attended in full force ready to repair everything and anything as the teas and coffees flowed.
First up to the table was a first-timer to the café with a broken necklace.  The jump ring at one end was missing so the necklace couldn't be worn.  This was nearly a non-starter as, in all the kit and spares that the experts had brought along, no one had a jump ring.  But that didn't stop the experts who love a challenge. A tiny piece of electrical wire was carefully fashioned in a perfect circle, slipped though the fine chain link, soldered closed with any burrs filed smooth.  The visitor was thrilled and, seeing what can be fixed, asked if she could come to the next session with other broken items that she would normally throw away.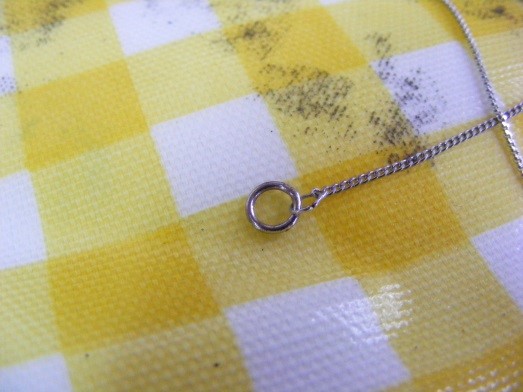 Next through the door, a sewing machine that was destined for the skip had been rescued by its new, beginner owner but she couldn't get it to work properly.  On removing the cover, the needle was slightly bent so hit the bobbin case at the wrong angle.  The sewing expert replaced the needle, threaded the machine and delivered a quick 'How to work a sewing machine' tutorial.  Another repair completed and a happy visitor who will hopefully go on to have many days at the foot pedal.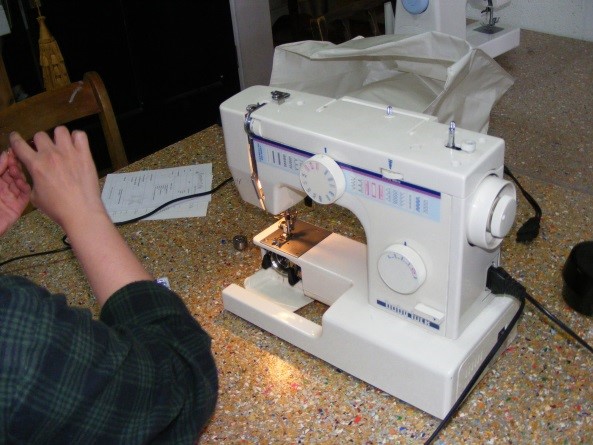 By this time the Repair Café was buzzing with visitors.  A fascinating travel radio that had visited many continents was opened up and inspected.  The aerial had snapped off.  Whilst specific spare parts aren't available on site, its owner left knowing what to buy and is returning to the next event in a month's time.  A clockwork radio was taken then taken apart, components glued with epoxy adhesive and left to dry to 24 hours.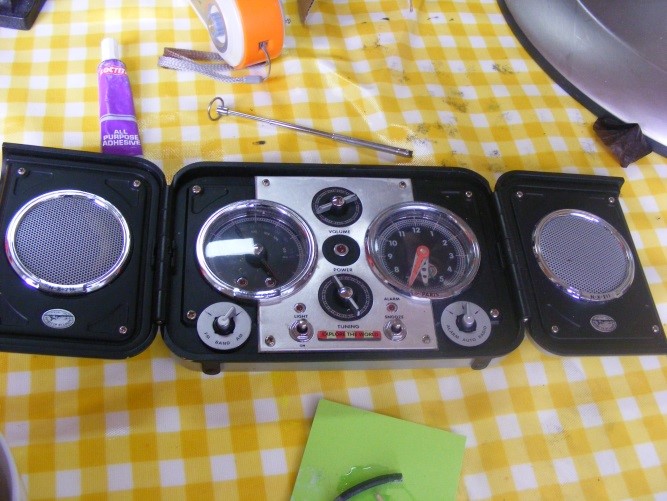 A well-loved, very noisy, overly vibrating, metal, floor-standing fan escaped the skip to challenge the team.  One of its fan blades was panel-beaten flat to remove some damage then reattached, the blade unit balanced, washers added to fixing bolts, fracturing plastic components glued and secured and another very happy visitor left with not only an improved, functioning fan but maybe a little more courage to have a go at repairing.
We all have a pair of jeans that have worn through but this was no problem at the Repair Café.  Two pairs of jeans and a T-shirt were brought in, their owners were set up with a sewing machine, an iron and shown how to repair them.  First fusible interfacing was cut to size, placed over the hole from the wrong side of the fabric and ironed in place to limit the movement of the fabric as it was sewn, then new patches were sewn in place.   Three garments ready for wear and two visitors left with new found skills.
Last up was a beautiful leather backpack that was no longer used as the stitching had failed.  A brand new sewing awl with a leather sewing machine needle, strong thread and beeswax were used to tackle this job, hopefully resulting and many more years' use for the backpack.
The two hours was jam-packed with thinking, head scratching, learning, chatting, fixing and well loved items were given a new lease of life.
Fancy going to the next Repair Café ? The next Repair Café is Saturday 20th July, 10am-12pm (every third Saturday of the month)  There's no need to book – just turn up on the day with your broken item.
For more information, visit Chorlton Repair Café Facebook page  Follow #ChorltonRepairCafe on Twitter or visit the Stitched Up website. 
Don't live in Chorlton?  There are Repair Cafés in Boothstown, Levenshulme and Moss Side.