Back in the day, you may have called Recycling Centres, 'Rubbish Tips' or 'The Dump'! Did you know there are 20 Recycling Centres across Greater Manchester that you can use to dispose of waste and recycling from your home? You can recycle all sorts of things, from dead batteries to old clothes, shoes and any broken electrical items.
Help us recycle more
You can recycle almost 40 different types of items at our Recycling Centres, from clothes to washing machines. See our A-Z guide to waste and recycling to find out exactly what to do with (almost) anything and everything.
Recent research shows that 43% of the waste that people put in the general waste container at the Recycling Centres could have been recycled.
To help you, we have come up with five top tips to make your visit easy while recycling as much as possible.
5. Donate, don't throw it away!
You can now donate electrical items, furniture, toys and sports equipment to our Renew Shops, where all money raised will go to supporting initiatives in Greater Manchester such as the Mayor's Charity as well as projects that reduce waste, encourage recycling and reuse of items.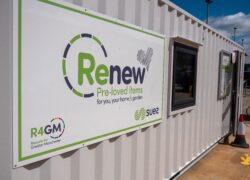 4.  Loading your vehicle
Use bags and boxes to separate different types of items such as batteries, metal, clothes and small electrical items, so you can easily put them in the right container when you get to the Recycling Centre.
3. Plan your visit
Recycling Centres can get very busy, peak times are weekends and bank holidays so try and plan your visit to avoid these times if possible.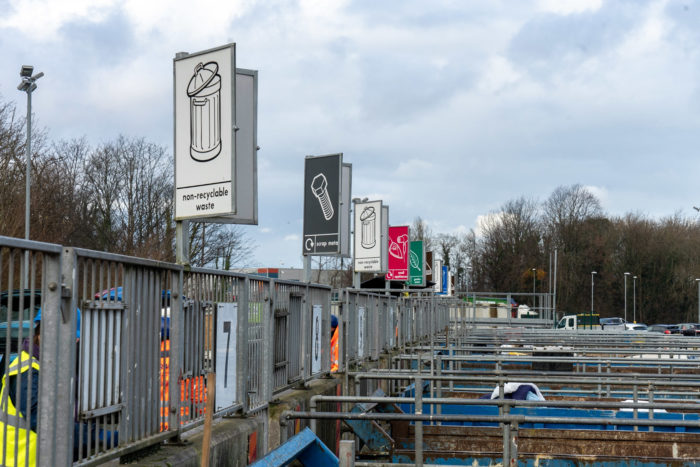 2. Look after your personal belongings
Make sure you put your personal belongings somewhere safe – it is very difficult for staff to retrieve keys, mobile phones, and wallets if they are accidentally dropped into a recycling container. Keep children and pets safe by making sure they stay in your vehicle.
1.  Ask for help
If you are unsure if your items can be recycled or where they go, please ask a member of staff who will be happy to help.
Just one last thing, close your car boot!
People have accidentally driven off leaving their boot open and only realised when they hit the barrier!
Recycling Centres are to be used only by Greater Manchester residents to recycle and dispose of their household waste. Traders using our Recycling Centres illegally not only make them very busy for residents but also cost your local council money.
From February 2020, a new Automatic Number Plate Recognition (ANPR) system will be used at all Recycling Centres to stop traders and businesses from illegally using them to dispose of their waste. Traders and businesses must pay to dispose of their waste, they will be redirected to other facilities.
The ANPR will record how many times you use the Recycling Centres and display your vehicle registration number when you visit. The number of times you can visit a year, depends on the size of your vehicle.
Number of times you can visit a site in a year:
Cars and cars with single axle trailers – 52 visits a year
Cars with a double axle trailer – 18 visits a year
Vans (including pick up trucks) – 18 visits a year
What happens if you go over your limit?
The staff at the Recycling Centre will be alerted once you've reached a certain limit and will want to check that your waste is household waste and that you live in Greater Manchester (excluding Wigan).
Carrying out home improvements?
If you are hiring traders to do up your home, whether it's updating your kitchen, refurbishing your bathroom or sprucing up your garden – it is the traders' responsibility to remove all the waste for you. Make sure they include waste removal in their quote. You can't take this waste yourself to any of the Recycling Centres as this is classed as business waste.
Paying someone to get rid of your waste?
If you pay someone to get rid of waste for you, it's your responsibility to check they have a waste carrier's licence. If your waste is fly tipped, you could face a £400 fixed penalty notice or an unlimited fine.