Recycle for Greater Manchester welcomes the introduction of compostable carrier bags to replace 5p plastic bags in up to 100 Greater Manchester Co-op food stores. The compostable shopping bags, which are widely available this month, carry the recycling seedling logo and can be used to line food waste caddies in the home.
The Greater Manchester stores are among the first in the UK to offer compostable bags instead of single-use plastic bags. The ambitious plan is part of a nationwide roll-out to almost 1,400 stores later this year, which will see the Co-op replace around 60 million single-use plastic bags.
Recycling food and garden waste is equally as important as recycling paper, card and mixed recycling. Across Greater Manchester, all types of food waste are collected for recycling including cooked and uncooked food such as left overs; raw or cooked meat; fruit and vegetables; teabags; egg shells and coffee grounds.
Food and garden waste collected in Greater Manchester is processed in an in-vessel composter (IVC) where it is turned into peat-free compost. It is then matured and blended with forestry by-products to produce a high quality compost called Revive® Multi-purpose Compost, which is available to buy from weighbridges next to some Household Waste Recycling Centres.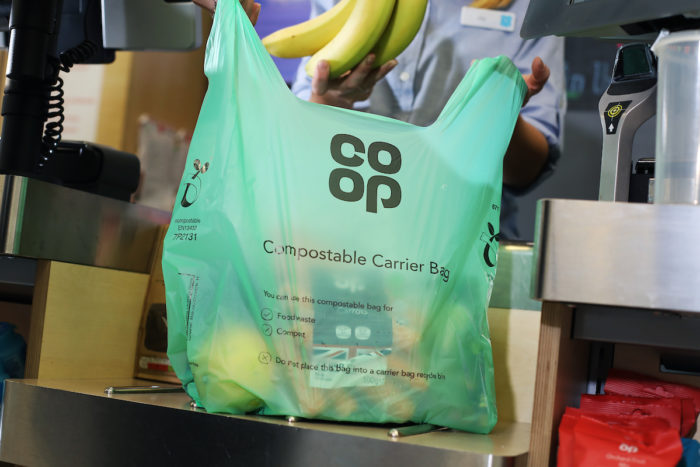 Councillor Alex Ganotis, Greater Manchester's Green City lead, said: "This is a very ambitious plan being introduced by the Co-op and we're pleased that Greater Manchester was chosen as the first region to roll out the compostable bags. We want to remind residents that these compostable bags can be used in the food caddies at home – they are an ideal and practical solution. If in doubt whether a bag is compostable or not, always check for the seedling logo on the bag. That way you can be sure that they are suitable for composting along with food and garden waste."
Iain Ferguson, Environment Manager, Co-op, said: "Our members and customers expect us to help them to make more ethical choices, and we are dedicated to doing just that. It is, and always has been, at the core of our efforts. The bags are carefully designed to help local authorities with food waste recycling, supporting their community and resident engagement and reducing plastic contamination in a targeted way."
See the full list of Co-Op Food stores with compostable carrier bags.