Our latest blog post is from Carl of Lentils and Lather eco-friendly and ethical superstore in Withington. Find out how Lentils and Lather is helping the community to use less plastic and shop more sustainably.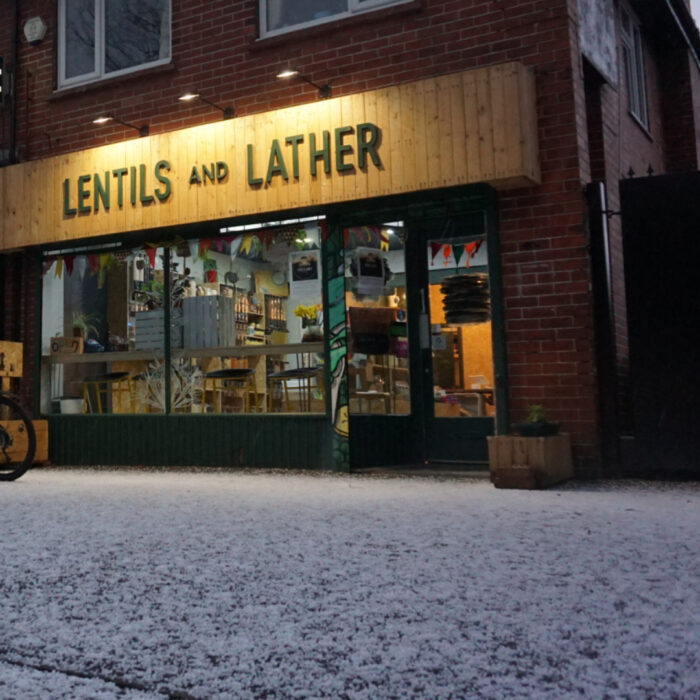 We started Lentils and Lather just over a year ago with the primary objective of enabling the people in our community to reduce the amount of plastic waste they produce. However, in the short time that we've been open, we've gained a lot of knowledge about a whole host of issues and have broadened our goals to include a range of sustainable and ethical practices. These include buying locally where possible to minimise carbon emissions and supporting other local programmes and businesses that have an ethos similar to our own.
Let's break that down a little to see what we mean and how we address those key areas in our operation.
Waste reduction
Plastic packaging is so entwined with modern life that it's not until you actually stop and think about what happens to your waste each week when the bins are collected that you realise that something isn't right with how we've been treating this material. Plastic is a brilliant invention, but is there really any need to wrap your packet of pasta in plastic, just so you can take it from the shop to your kitchen cupboard? A shampoo bottle is perfect in the shower as it's durable, water-resistant and it's strong polymer structure means it could last a lifetime – why then, do we bin it after just a few weeks?
This is where shops like ours come in to play. You can turn up at Lentils and Lather (there are others around Greater Manchester too!) with your containers, which you can refill with many of the products you need around the home. We buy in bulk and sell by weight, so you can take as much or as little as you need. Our range includes things like olive oil, rice, lentils (obviously!), chickpeas, shower gel, hair conditioner, laundry liquid, fabric softener, surface cleaners, hand soap and much, much more.
We endeavour to minimise any plastic packaging that's used in our supply chain. For example, we buy things like pasta, rice and lentils in 5-25kg paper sacks, but where we really do need plastic (e.g. liquids) we opt for suppliers that operate a circular supply system. Our suppliers provide their products in 25L containers that they take back when they're empty to clean, refill and reuse many times over. This retains the value of the plastic that's been formed in a particular way; it's much better than breaking it down and turning it into something else.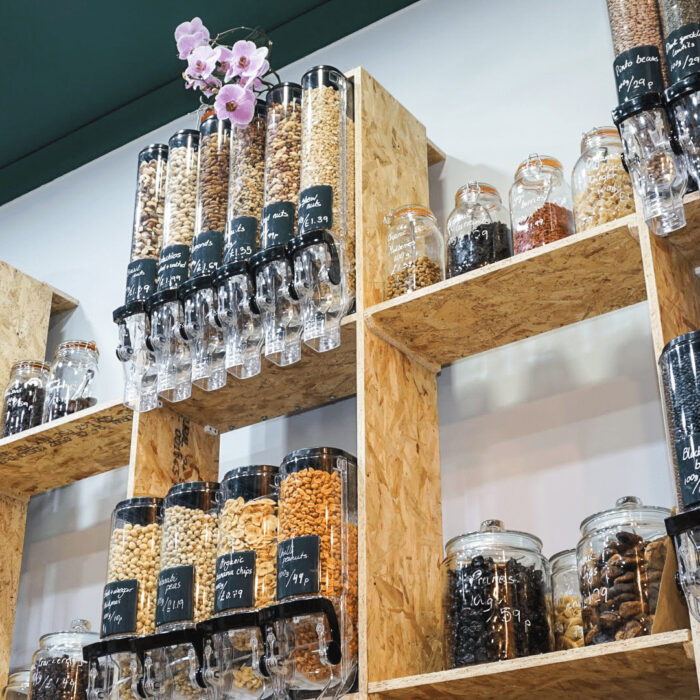 Minimising emissions
Although we set out with a simple mission to reduce plastic waste, we've quickly realised that it's just one piece in the sustainability puzzle.
One of the biggest, but most easily attainable actions we can achieve is to look at where our goods come from and reduce the carbon footprint needed to get a product from manufacturer to consumer.
Many of the products we stock are made by local, independent manufactures, who provide us with a wide range of things from reusable face wipes, wax food wraps, face coverings, soap bars, plant pots, kitchen cloths/sponges and butty bags.
Food-wise, we stock vegan chocolates that are made in Didsbury, bread that is baked in Chorlton, quinoa and extra virgin rapeseed oil that comes from the Midlands and pasta that hails from London and uses British grains. Many of these products are organic too!
We know that not everything can be made or grown locally, but when we do have to source products from different parts of the world we ensure that our suppliers place sustainable and Fairtrade practices high on their agenda.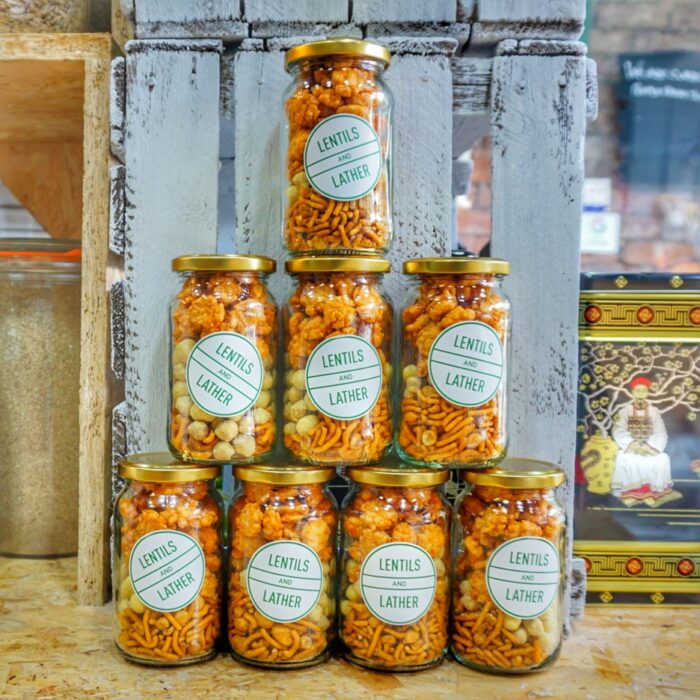 Supporting the wider local community
Finally, we're well aware that there are many others striving to achieve improvements across a wide range of environmental and social issues and we aim to utilise our business to support these however we can.
For example, we came across Chorlton Bike Deliveries towards the end of the lockdown earlier this year and were pleased to hear that there was a group of people offering those who were self-isolating the opportunity to have goods delivered by bike from a range of local shops in the Chorlton area. We made contact with the eco-couriers and signed up to be added to their list of suppliers and help raise awareness of their mission. We also act as a collection point for locally grown produce delivered by Veg Box People.
We utilise our buying power to make regular donations to a charity that supports vulnerable and disadvantaged adults as well as collecting empty crisp packets for a guide dog charity who generates a revenue stream by sending them to Terracycle.
Finally, we've just launched our own loyalty card where customers can claim a number of rewards, one of which is a contribution to City of Trees – a Greater Manchester project that's transforming unloved woodlands and aiming to plant 3 million trees in our locality.
The things we've mentioned in this feature are just a small example of how we're setting out our stall and there are many more things that we could talk about that can help people who, like us, are concerned for the environment. Being small and independent means that we're able to take a flexible approach to how we run our business and no doubt there will be many changes in the future as we learn of new ways to have an impact on plastic waste and other environmental issues.