Read how lockdown has changed our Jess's food shopping habits and how she batch cooks meals to save money and on time spent on washing up!
---
Over the past few months I'm sure I'm not the only one who has changed my shopping habits when it comes to food. Before lockdown I would find myself doing small shops several times a week on my way home from work, buying food just for that evening's meal. Now I wait until a weekend, make a list and do a much bigger weekly shop with a rough idea of meals planned. Also, with less plans at the weekend I've been using some of this extra time to batch cook for the week – this takes the hassle out of cooking during the week after work.
Batch cooking meals which only requires one pot to wash up after is even better, so below I have shared some ideas of what I've been cooking that requires very little washing up (these are vegetarian but can easily be changed to include meat):
Make a 'base sauce' of something that can be split to made into two different meals e.g garlic, onions, lentils, stock, seasoning – split into two pans and add tomatoes and seasoning to one for a lasagne, and gravy granules to the other to make a 'shepherd's pie' filling.
Chilli – similar to the above with tomatoes, just add chillies and seasoning, and swap lentils for a tin of mixed beans and some peppers.
Curry – another easy dish to freeze and can be adapted to vegan, vegetarian or meat eating diets.
Batch cooking is also great for using up any leftover vegetables you may have in your fridge that are nearly past it as the recipes and ingredients are really flexible. These meals can then be portioned and then reheated on the day you want them and served with rice, pasta or bread (which doesn't require too much cooking in the evening!)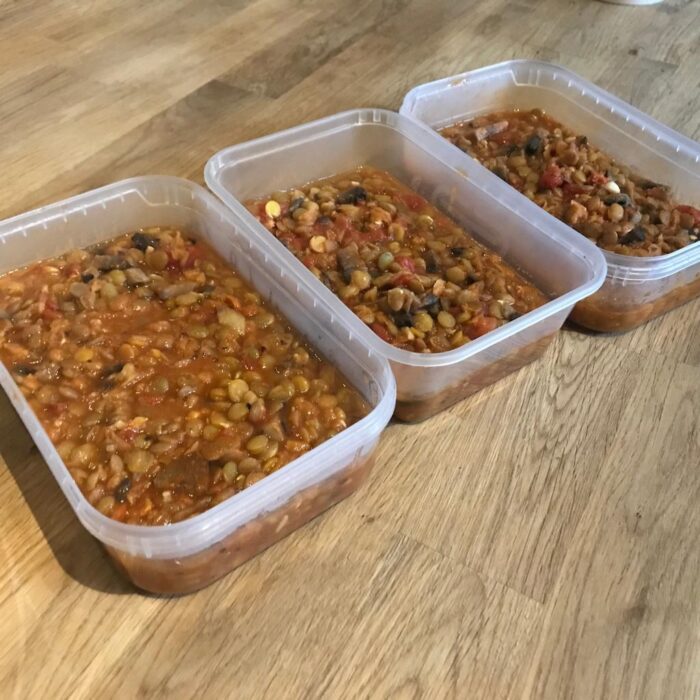 In my local supermarket it is hard to find loose and single items such as onions, potatoes and leeks. However when batch cooking, I can use up entire packets when cooking multiple portions of one meal, meaning less waste and no more sad looking leeks at the back of your fridge.
The past few months have made me rethink my old shopping and cooking habits. I used to pop out to the shop if I didn't fancy what I already had in the fridge for tea. The way I have been shopping recently will be something I carry on doing as it has saved me money and food waste.