Katy Jones, a member of Terrace Square Artists Project artists' collective shares how she has worked with her neighbours to create a beautiful outdoor living space for their families, friends and wildlife in Moss Side and Rusholme's once neglected alleyways.
---
How it all began…
Just over two years ago, my family and our neighbours began to transform our shared alleyway. At the time, it was a rubbish-strewn wilderness, used only for the storage of our communal bins. Now it is a community garden in which we are growing flowers and shrubs, trees, fruit, vegetables and herbs. Given our limited resources and our desire to improve the environment globally as well as locally, recycling has been an important part of the project.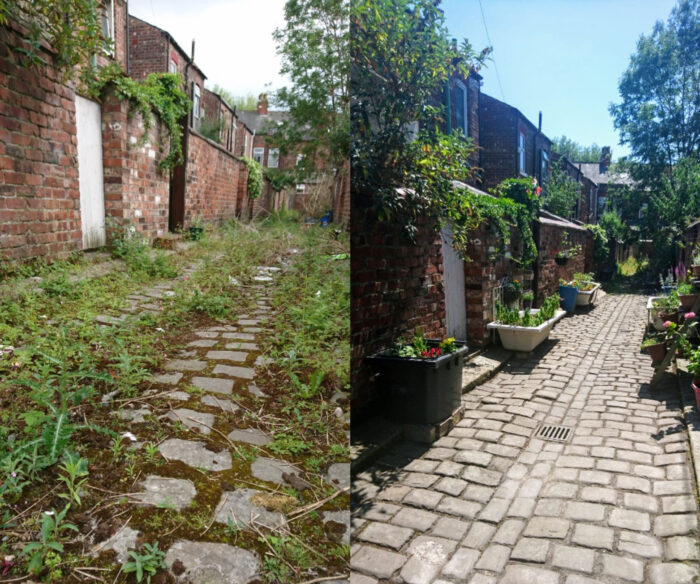 Minted bathtubs
The simplest way to recycle in a project of this kind is by reusing containers, many of which may originally have been designed for quite a different purpose. Perhaps our most unusual containers are our four baths, which were otherwise destined for landfill when their previous owners redecorated their bathrooms. Baths make sizeable planters for shrubs or small trees, though one of ours is entirely full of peppermint. This does at least mean we can make mint choc chip ice cream, mojitos, peppermint tea and mint sauce all on the same day – and still not run short!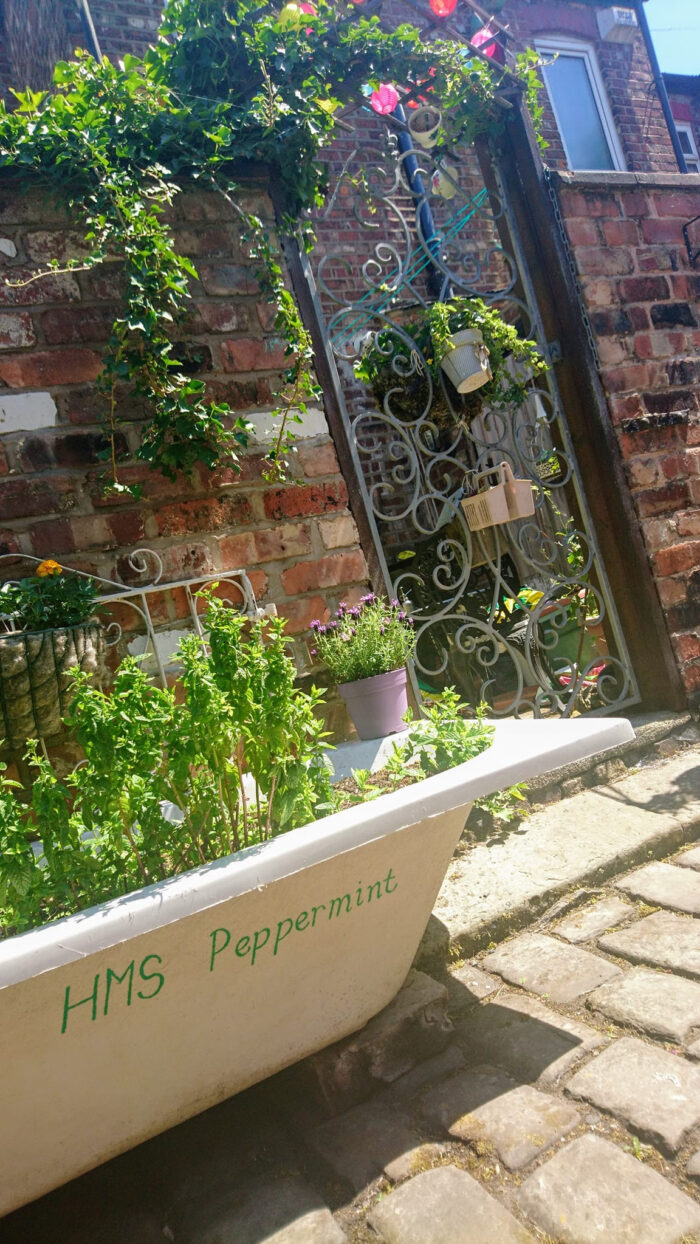 Don't throw, grow!
Wheelie bins also make two good-sized planters when cut in half horizontally with a reciprocating saw. Of course, this only makes sense if the wheelie bin is no longer needed, as was the case when our area converted to using communal bins. The top half of the bin can be made to hold compost if you line the base with old compost bags. Due to other changes in the recycling system we also ended up with some large plastic recycling boxes and a surplus food recycling bin, all of which we are now using for container growing. In order to turn these various bins and boxes into planters, the only thing we needed to do was to clean them and drill a few drainage holes in the bottom of each, so that the plants would not get waterlogged. The plug hole seems to provide sufficient drainage for the baths.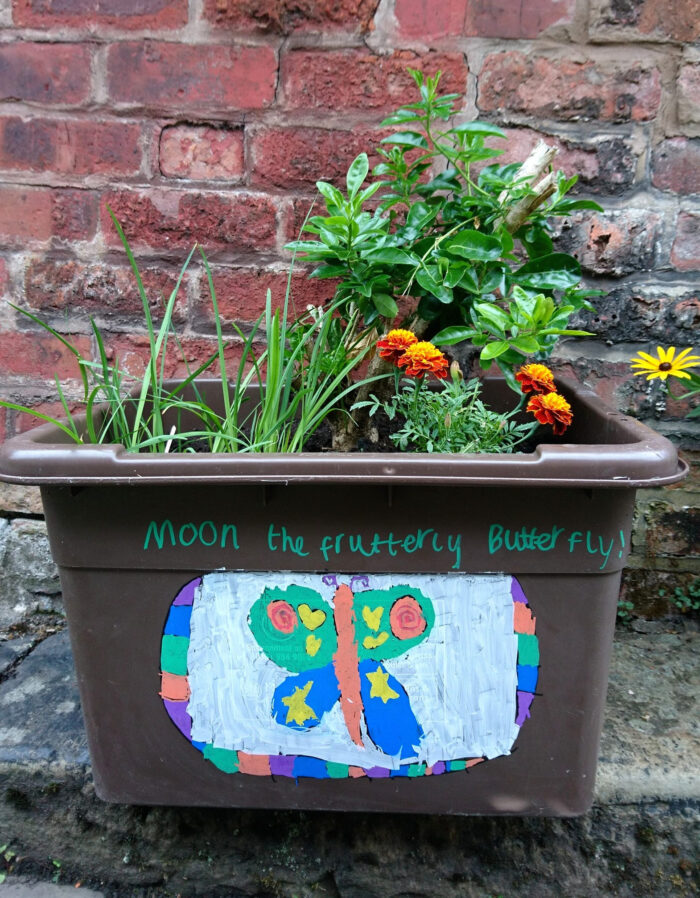 Repurpose it
Many of our more unusual planters have been given to us by people decluttering or salvaged from the bins, often when student tenants move out. We are using mop buckets, kitchen bins, mugs, a cutlery drainer, plastic crates and even a child's pull-along dinosaur trolley! Old food containers such as plastic milk bottles can also be upcycled into mini hanging baskets and we also have plants growing in industrial size mango chutney containers!
Greening our alleyway has really changed the way I look at people's discarded belongings. Some strange objects end up in our communal bins, but these days I see their potential. Metalwork gates and bed headboards have become trellises for plants to grow up; nesting tables are used to raise small pots to a convenient level, and keep young plants further from slugs and snails; an old blackboard was repurposed to record alleyway wildlife sitings and an old cupboard became a pot store.
Upcycle it
Upcycling projects can be as simple or as elaborate as you want them to be. Reclaimed bricks and wood can be used to build raised beds. My husband Mike has been inspired to create a mini pond out of an old whisky barrel, using reclaimed roof tiles to build a tiny waterfall. (We had to buy the barrel…unfortunately whisky barrels don't routinely end up in our communal bins!) He has also made a bird bath out of a standard lamp and has built a green roof using slats from a discarded futon. The waterproof layer is made from an inflatable bed which was damaged beyond repair.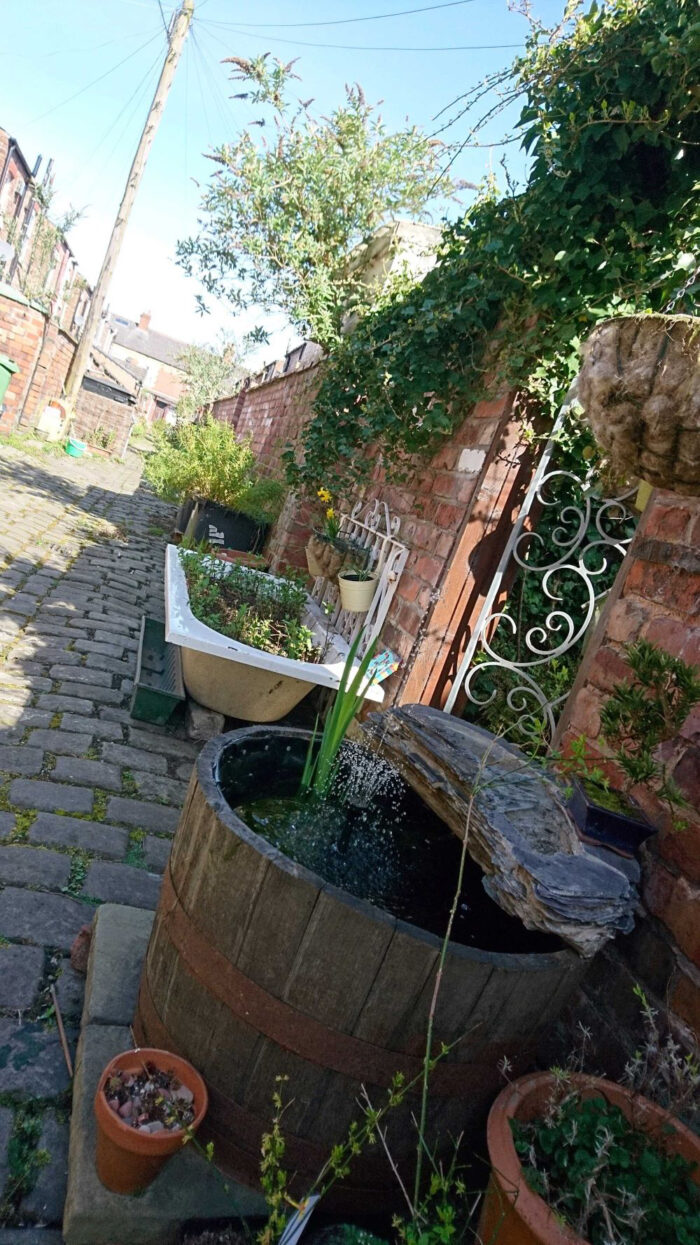 How to start your own alleyway project
If you're interested in setting up your own alleyway project, the first thing to do is start talking about it! If you know your neighbours, ask them to get involved. If not, decide on a day to start work and post a note through all your neighbours' doors, encouraging them to join in.
We have found WhatsApp to be the most effective way to keep in touch, so maybe include a phone number in your note and set up a WhatsApp group. It's also a good idea to look for help a little further afield.
In our area of Moss Side we're lucky enough to have a local network of green alleyways, which means it's easy to borrow tools and share expertise, as well as passing on plants and unwanted materials. It's also worth chatting to friends and family about the project.
We've had really generous support from all sorts of people who have given time to help us with clearing or gardening, or who have donated plants from their own gardens, as well as garden supplies and all sorts of oddities that can be turned into planters. You might even inspire someone else to start their own community garden!