Over the last 3 months Trafford residents recycled 60% of their waste and are now being asked to think about the items they recycle in their black bin. Over the next 2 weeks, stickers are appearing on black recycling bins and a leaflet posted through letter boxes to help residents recycle even better.
Recycle for Greater Manchester (R4GM) have come together with the One Trafford Partnership to run the #GotToBeABottle campaign; helping Trafford residents to think about which plastic items they recycle. Any plastic bottles used around the home can go in the black recycling bin. This includes bottles like bathroom spray bottles, washing up liquid bottles, shampoo bottles and drinks bottles. The plastic bottle residents recycle today can be made into something new such as furniture, playground equipment or even back into a new plastic bottle.
Most residents recycle right, but some are putting other types of plastics in the black bin such as plastic bags, yoghurt pots, fruit trays, margarine tubs and plant pots. None of these items can be recycled and should go in the grey general waste bin.
All plastics in theory can be recycled but it is not always technically or economically viable. In Greater Manchester, the only plastics which can be recycled are plastic bottles because there is a sustainable market for them with a guarantee they will be recycled.
The It's Got To Be A Bottle leaflet explains why only bottle shaped plastics can be recycled and it is also a handy guide to what can be recycled in the black bin. The bins sticker is a quick reminder of what residents can put into their black recycling bin.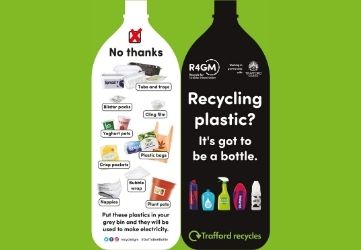 Executive Member for Environment, Air Quality and Climate Change, Councillor Stephen Adshead, said: "The list of items that can be recycled has not changed, but we've noticed that more of the wrong plastics are now being put in the black recycling bin. Recycling plastics can be confusing, that's why we're reminding everyone that it's Got To Be A Bottle. It's really important that everyone recycles right, not only to protect the environment but to also protect other essential public services.
When wrong items are placed in the wrong bin, it can cost the taxpayer in additional disposal fees – money which could be spent on other council services. We know that most people in Trafford recycle well, but we need everyone to only recycle the correct items. Residents will see that we're providing all black bins with a reminder sticker to help everyone recycle right."
Other items which can be recycled in the black bin include food and drinks cans, glass bottles and jars, foil and aerosol cans.
For details on what can be recycled, download a recycling guide on Trafford council website