National Recycle Week gets underway on 24th September and Recycle for Greater Manchester and Mayor of Manchester, Andy Burnham, are taking the opportunity to thank residents across the region for their continued recycling efforts.  The message for the week is: Recycling. We do. Because it Matters.
Mayor of Greater Manchester, Andy Burnham, said: "The residents of Greater Manchester are embracing calls to recycle and I'd like to thank them for their hard work and commitment to recycling right.
"We all need to do our bit and Recycle Week provides us all with a good opportunity to look at our recycling habits and see where we can do even better – sometimes it's the small steps that make the real difference. Let's make our recycling in Greater Manchester better than ever."
From Blue Planet II, to major developments towards reducing unnecessary plastic, people have been motivated to care about the environment this year in a way they never have before. Now in its 15th year, Recycle Week is aiming to build on the momentum and enthusiasm for recycling and, importantly, remind people how to recycle right.
During the week a nationwide, multi-media advertising campaign is being rolled out by Recycle Now, featuring photographs of towns and cities across Britain to bring to life the message: 'Recycling. We do'.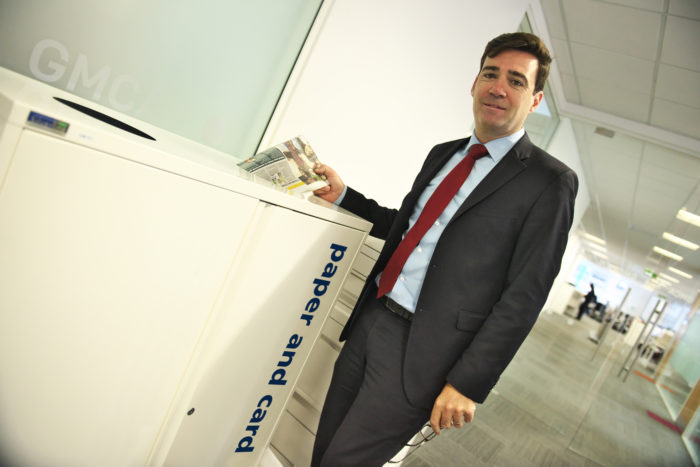 Recycle for Greater Manchester, in partnership with council recycling teams, is encouraging residents to get involved during Recycle Week and see how they can improve their recycling habits. Recycling information is available on the Recycle for Greater Manchester and council websites and teams will be out and about doing informative pop-up events at Co-op Food Stores. In addition, to support the 'We do' campaign a number of councils are lighting up their town halls – or other notable buildings in green – to show that recycling matters to them.
Recycle Week: why getting recycling right matters
New research from Recycle Now shows that more than half (56%) of people in Greater Manchester put at least one item in the general waste that could be recycled; while 86% add one or more item to their recycling collection that is not accepted locally.
As part of Recycle Week, residents are being reminded that they can take simple steps to make their recycling even better. Top tips include:
All types of plastic bottles go in the mixed recycling bin including drinks bottles, milk bottles, cleaning product bottles, trigger spray bottles and shampoo and shower gel bottles
All other types of plastic such as plastic bags, packaging, pots, tubs and trays go in your general waste bin. In Greater Manchester, the general waste does not end up in landfill, it is used to make electricity.
Councillor Alex Ganotis, Greater Manchester's Green City lead added: "This year we've all taken more notice of our impact on the environment, and realised that recycling is part of reducing that impact. Here in Greater Manchester it's no different – more and more of us are recycling and the next step is to make sure we get our recycling right.
"We've made great progress and now let's build on that and get even better at recycling. Recycle Week provides us with a good opportunity to make sure we know what we're doing when it comes to recycling. By working together we can all make a difference and show that recycling really does matter."