It's hard to avoid it and even though many of us do protest, Valentine's Day is a pretty good excuse to make the extra effort for the person you love (or really really really like).
But showing someone you care doesn't have to be all wrapped in plastic. Here are 5  ideas from our guest blogger, Abbie at Plentiful on how to celebrate Valentine's Day – the plastic-free way.
1. A home cooked meal
Avoid the stress of getting a table at a restaurant this Valentine's Day and eat in instead. When you go shopping at your local market, farm shop or supermarket take your reusable bags and containers with you to put the ingredients in. Most meat or fish counters will let you use your own tubs as well. Or visit your local plastic-free shop, they should have the rest (hello!)
Try not to be tempted by the ready meal deals as they are often in plastic that can't be recycled in your bin at home. Plus, where's the love in that?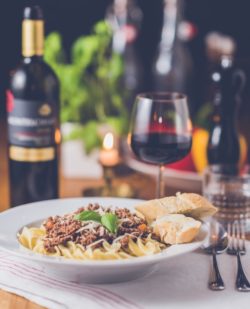 2. DIY card
As a nation we love giving cards but instead of buying an off the shelf generic card, give it the personal touch and make your own.  All you need is some paper, scissors, glue, a pen and some creativity – there's loads of ideas online if you need some inspiration. Or just print a photo (some shops have instant printing booths) and write your own message on the back. Like the home cooked meal, it's from the heart. Or you could always go digital, declare your love via email or text.
3. Flowers
Bouquet of flowers is a Valentine's Day favourite but usually wrapped in plastic. Ask your florist to see whether they have any plastic-free options. Some offer paper-wrapped bouquets or ones that come ready in a vase.
4. Sweet treats
Again, as easy as it is to pick up chocolates from the shelf, hand-picking is the next level when it comes to thoughtful. Visit your nearest zero waste shop for treats such as  chocolate buttons, brazils, coated physalis berries and more. Grab a jar and you're good to go. Or visit your local confectioners or gift shop, they often have boxes where you can select your own handmade chocolates. Give making your own truffles a go! It's easier than you think! Palm free, plastic free, and super indulgent.  They are worth the effort!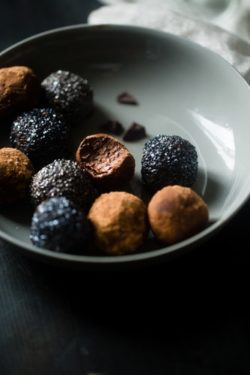 5. Gifts
The best way to treat a loved one on Valentine's day is to gift an experience you can both enjoy. Whether it's breakfast in bed, or an extravagant weekend away. If you're stuck for experience ideas – make sure you gift something that will genuinely be used and kept a long time. Is another stuffed teddy holding a heart something they want?
How are you celebrating Valentine's Day?  Share with us your plastic-free ideas below!