While Christmas is about spending quality time with loved ones, in my family, it completely revolves around what we are eating! Because we are all such foodies, it means that we always buy way too much and end up with tonnes of leftovers.
Over the years, we have come up with some great ways to use up Christmas leftovers. Here are my favourite recipes that means nothing goes to waste.
I know it's cheesy, but this recipe is grate
Anyone else have a cheeseboard at Christmas? We have ours as part of an evening buffet, but to be honest, we are usually way too full up to really appreciate the variety of cheeses that my Mum makes the effort to buy.
Here's a recipe that always goes down well. My Mum likes to eat her macaroni cheese with some leftover chutney or pickle on the side. And remember, you can also freeze cheese!
Leftover Cheeseboard Macaroni Cheese
Cook time: 35 minutes
Serves: 4
Ingredients
25g butter or margarine
25g plain flour
500ml milk
200g grated cheese (use whatever you have leftover), plus a bit extra for the topping
Pinch of salt and pepper
1 slice of stale bread (the crust works best) – you could even use leftover cheese crackers
350g pasta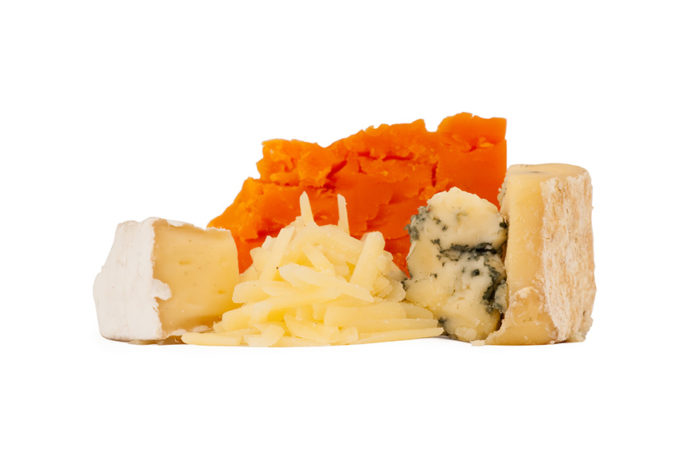 Method
Cook the pasta according to the pack. I'd recommend cooking it al dente.
Melt the butter and add the flour. Stir to a paste and cook for about 1 minute, until it bubbles. Gradually add the milk, a bit at a time, and whisk so that it doesn't go lumpy. Cook until it thickens to a thick sauce.
Add the cheese and stir until melted.
Add the cooked pasta and season with salt and pepper.
Whizz the bread (or crackers) in a food processor to make breadcrumbs. Or break up by hand.
Put the cheesy pasta in an ovenproof dish and sprinkle the breadcrumbs and extra grated cheese on top.
Bake at 200 C for about 15 minutes, or until the top is browned and crispy.
Don't go cold turkey
This pie is a fantastic way to use up all your Christmas dinner leftovers and makes a lovely Boxing Day treat. The beauty of this pie is that you can put whatever you want it in. All the measurements are approximate, if you have more or less leftovers that's fine.
Leftover Christmas Dinner Pie
Cook time: 1 hour
Serves: 4
Ingredients
1 tablespoon oil
1 onion, sliced
6 sausages or leftover pigs in blankets
1 stock cube, crumbled
50g plain flour
A knob of butter
150ml leftover white wine
500ml stock or gravy
A few sprigs of fresh thyme – if you don't have fresh, you can use a tablespoon of dried thyme.
Salt and pepper
6 stuffing balls, cooked
800g leftover roasted veg – potatoes, carrots, parsnips etc.
300g cooked turkey, shredded
1 roll of puff pastry
1 egg, beaten
Method
Heat the oven to 200 C/ gas mark 6. Heat the oil in pan and cook the sliced onion on a medium heat for about 10 minutes until soft and brown.
Push the onions to the side and cook the sausages until browned all over. If you are using leftovers, you can skip this step. Remove the sausages from the pan.
Add the flour, crumbled stock cube and the knob of butter. Heat for 1-2 minutes, stirring continuously. Then add the white wine and let it bubble for 1 minute. Scrape the bottom of the pan to make sure nothing is sticking and to release all the tasty flavours. Then add the stock or gravy, thyme and season with salt and pepper. Let it simmer for 5 minutes, or until the sauce has thickened a bit.
Cut the sausages, stuffing and vegetables into bite sized pieces and add to the sauce. Add in the shredded turkey and give it a good mix.
Pour the mixture into an ovenproof baking or pie dish.
Cut a strip of puff pastry that is as wide as the rim of the pie dish. Using a bit of the beaten egg, stick the strip of pastry to the rim of the dish. Brush it with the beaten egg and cover the pie with the puff pastry. Gently press the edges down with your fingers and cut away any excess pastry. Cut a little hole in the top to allow steam to escape and glaze the top with the leftover beaten egg.
Cook for around 30 minutes or until the pastry has risen and is a golden brown.
Keep calm and curry on
In need of some spice after a few days of traditional food? This is a simple but flavourful curry that will warm you up on cold wintery day. If you don't have the spices in, you could also use a pre-made spice paste from a jar.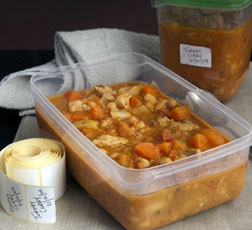 Leftover Turkey Curry
Cook time: 40 minutes
Serves: 4
Ingredients
1 tablespoon oil
1 onion, finely chopped
3 cloves of garlic, crushed
2.5cm of ginger, crushed
1 teaspoon coriander powder
1 teaspoon turmeric
1 teaspoon cumin
1 teaspoon cinnamon
1 teaspoon chilli powder (optional)
300g leftover turkey, diced
300g leftover veg, potato or carrot works best
400g tin chopped tomatoes
Rice or bread, to serve
Method
Heat the oil on a medium heat in a saucepan and gently cook the onions until softened, but not browned.
Add the garlic and ginger and cook for 3-4 minutes.
Add all the spices and cook for 1-2 minutes.
Add the cooked turkey and coat in the spice mixture.
Add the chopped tomatoes, bring to the boil then simmer for 10 minutes.
Add the leftover vegetables and heat for 5 minutes.
Serve with rice or bread.