In this blog post, Abbie at Plentiful: Plastic Free Shop shares 5 easy steps to having a plastic free Christmas!
Christmas is a time for giving, spending time with loved ones, relaxing and finding reasons to feel a little merry. At this time we're all susceptible to beautiful things, delicious food, and buying gifts. We needn't give anything up this Christmas, but we can find fulfilment in enjoying the festive season without costing the planet, too.
Here are my top 5 ways to making a huge reduction in our plastic footprint this December:
1. Food
In December, we eat a staggering 74 million mince pies. Can you imagine how many individually wrapped chocolates too? Instead of buying selection boxes and tins of treats individually wrapped – why not bake with the family, buy boxes of unwrapped chocolates and biscuits, or buy loose nuts and sweet treats. Many farm shops and bakeries will supply mince pies without a plastic tray, and Plentiful is full of treats like chocolate brazils – a firm favourite.
As for Christmas dinner, make use of your local butcher (many will allow you to bring a tupperware if you ask nicely! Perhaps not large enough for a turkey…) and greengrocers will really appreciate your support too. Buy loose and cook from scratch as much as you can, it's only once a year, after all.
Make sure nothing goes to waste! Use leftovers for as long as is safe, keep in jars, tupperware and use beeswax wraps instead of cling film for that midnight sandwich.
2. Gifts
Before Christmas, write one letter, email or text to your loved ones – explaining why this year, you don't want stocking fillers, '3 for 2s', smellies and things you'll never need. They'll understand and will probably feel relieved.
Buy for loved ones as thoughtfully as you can – charity shops are best and can make for a giggle, handmade gifts where possible, and wooden toys are making a huge comeback too. Many small businesses offer non-plastic gift cards, or perhaps a ticket to a gig or show – something wonderful to remember. They might even take you!
3. Wrapping and cards
When it comes to wrapping – paper is best. Watch out for glitter – it's a microplastic, and foiled or shiny/plastic lined wrap isn't recyclable. Go for plain, simple paper and natural twine and a sprig of holly or pine. It looks minimalist, traditional, and you can reuse time and time again or simply recycle. Same with cards – shop local and avoid glitter! Next level is to use fabric – there are some amazing reusable gift wraps online, or you can make your own by slicing some festive material and tying with ribbon.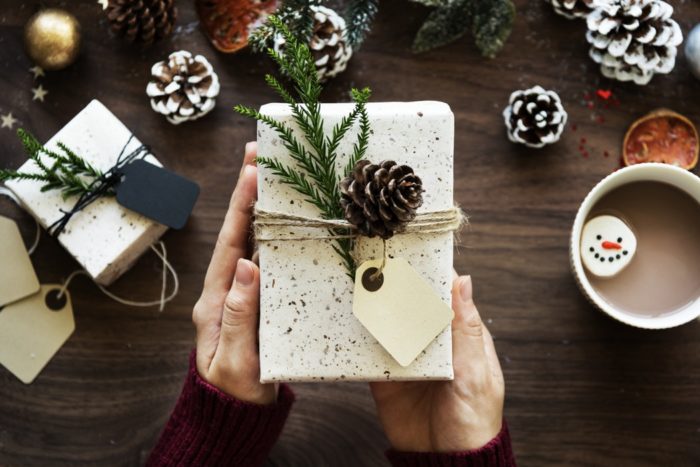 4. Decorations
It's been a long debate whether a plastic tree is more sustainable than a real tree, but if you choose an artificial tree, make sure you keep it for years on end. If you choose a real tree, these can be recycled at a drop off or in your food and garden bin – be sure to check Recycle for Greater Manchester's Christmas tree recycling guide.
As for decorations – do you really need to buy new? Handmade from paper or natural materials can be effective and sustainable options. Pine cones are a super seasonal favourite, especially combined with foliage like holly. A fun activity is make edible tree decorations, for example hanging gingerbread men or chocolates in boxes, although they may not make it to Christmas Day.
5. Parties, crackers and tableware
The festive season is often full of parties – be prepared. Always refuse the straw, and if you're partial to a cocktail – you can bring your own stainless steel or bamboo straw with you. There are lots of stainless steel cups on the market, which you can usually take. Paper plates are often lined with plastic – can you perhaps take a bamboo one? Or encourage the business or party-thrower to just use plates and metal cutlery, you can even offer to help wash up!
Each year in the UK, we pull 154 million crackers. If you have a drawer of cracker bits from years gone, could you make your own? 'Keep This Cracker' sell the basics to fill with your own gifts and use again. Some companies do make versions with plastic free insides too, it just takes a few clicks!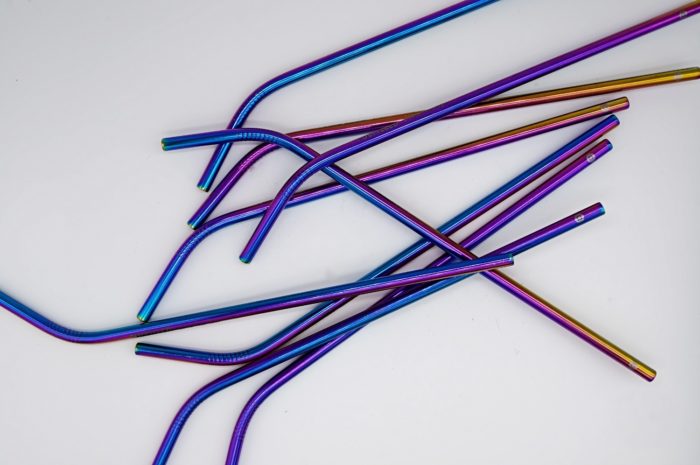 In the run up to Christmas, Plentiful will be providing:
Plastic free Christmas gift boxes, with zero waste essentials and treats
Loose food, baking ingredients (including ready to go Christmas cake/pud fruit mix), snacks, nuts and chocolate
Recyclable wrapping paper, decorative string
Metal straws and bamboo cutlery
See the range at plentifulshop.co.uk