Recycle Week is here again and it's set to be the biggest yet!
We are a nation of recyclers with more and more people in Greater Manchester recycling. So well done to everyone living in Bolton, Bury, Manchester, Oldham, Rochdale, Salford, Stockport, Tameside and Trafford. All your recycling efforts make a huge difference!
However, there is more that can be done. Recent researched revealed that while a lot of people are confident recyclers, not everyone is getting it completely right.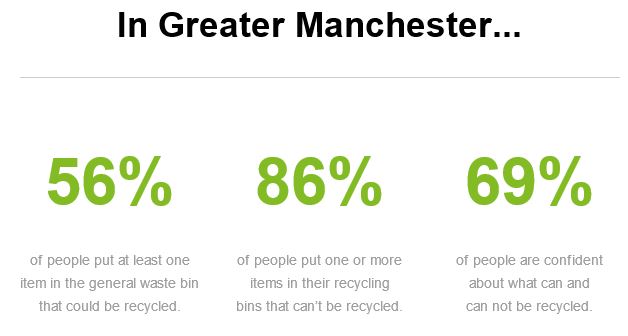 Most people in Greater Manchester are pretty good at recycling items found in the kitchen, but there are few things that some people don't realise you can recycle. Here are the top 3 kitchen items that often get forgotten.
1. Foil
Yes that's right, you can recycle aluminium foil! This includes foil wrapping, foil pie dishes and takeaway foil containers. Just make sure there is no leftover food on the foil and give it a quick rinse before putting it in your mixed recycling bin.
2. Plastic cleaner bottles
Trigger spray bottles, washing up liquid bottles and floor cleaner bottles can all be recycled in your mixed recycling bin along with all your other plastic bottles. Just remember to take the lids off which go in your general waste bin. See what else you can recycle at home.
3. Pizza boxes
Even if your pizza boxes are dirty or greasy, you can still recycle them in your paper and card bin at home. Just make sure you've eaten all the pizza first! If you have leftovers that you can't eat, put them in your food and garden bin and they'll be made into compost in just 6 weeks.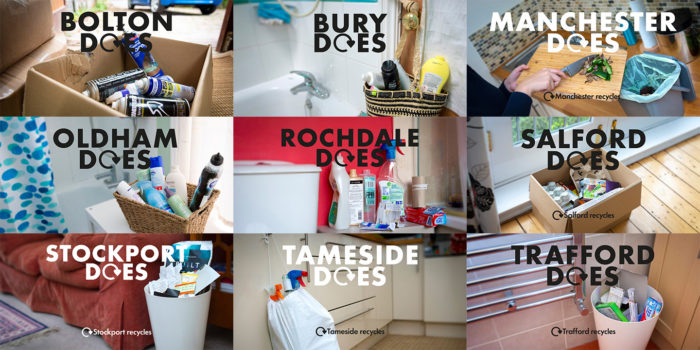 Being a good recycler also means knowing what you can't recycle. These are the most common kitchen items we find in the recycling bins that can't actually be recycled.
1. Plastic pots, tubs and trays
In Greater Manchester, the only plastic items you can recycle are plastic bottles. Other plastics, like pots, tubs and trays are made from low grade plastic and there is very low demand for these plastics from the manufacturers that make new products out of recycled plastic. They belong in the general waste bin where they'll be used to create electricity. Read our myth busting guide for more information.
2. Plastic bags and wrapping
You can't recycle plastic bags and wrapping in your bins at home. This also means that we don't want your good recycling in a plastic bag, just put it in the right bin loose. However, lots of major supermarkets have plastic bag recycling collection points. This doesn't just mean carrier bags but also includes cling film, salad bags, bread bags and so on.
3. Broken glass
Although you can recycle glass bottles and jars in your mixed recycling bin, broken glass and Pyrex can't be recycled. This is because they have been specially treated to withstand high temperatures, which means they melt at a different temperature to normal glass. So if you break a drinking glass or a Pyrex dish, pop it in your general waste bin.
Are there any items you're not sure about? Comment below or send us a Tweet or message on Facebook.
Think you know it all when it comes to recycling? Have a go at our recycling quiz and test your knowledge.
Keep an eye out for tomorrow's blog post all about recycling in the bathroom. For more information about our plans this Recycle Week and to see how you can get involved, check out our Recycle Week page.