Future Directions were granted £18,500 from the Recycle for Greater Manchester Community Fund (2021 – 2022) to develop their Green Superheroes project.
What have you achieved with the project so far?
We have recruited a team of Green Superheroes, which has provided both paid and voluntary opportunities to people with learning disabilities and complex needs. The group have held art and craft workshops where we used waste materials to create Christmas decorations. We have an exciting timetable of sessions planned for 2022, including making recycled Valentine's day decorations in February and planters and Spring wreaths in March.
We have also joined the Every Can Counts Campaign which is a not-for-profit communications programme aimed at raising awareness of the many benefits of recycling drink cans and making it easier for people to recycle their cans. We have placed can recycling boxes in venues across Greater Manchester and have acquired a Waste Carrier Licence so we can collect the cans and recycle them.
We are currently developing a training programme so we can deliver training to other organisations and people with learning disabilities to teach them about recycling and sustainability.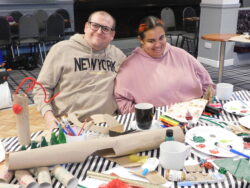 How has it benefited your community?
The Green Superheroes project has enabled us to engage with people with learning disabilities to enable them to think about recycling to help save resources and protect the environment. By holding art and craft workshops we have been able to do this in a fun and creative way, which has also enabled people to get together and engage in a positive activity and connect with others.
One of our workshops was held in a café where we were able to engage with members of the general public and promote the work we were doing. This has helped to showcase the abilities of people with learning disabilities and see them positively contributing towards society and the community in which they live.
What has been your biggest success so far?
In December we ran two art and craft workshops. We asked people to bring waste materials that they would typically throw away and we used them to create Christmas decoration. It was a huge success and was fantastic to see how creative people were in turning things that would have been thrown away into beautiful things. We received positive feedback from the events and people told us that they had made new friends and are looking forward to the next event.
What has been your biggest challenge so far?
Covid-19 has meant that we have had to restrict the number of people attending the workshops. We had a huge response to the fist sessions and are therefore planning on holding more sessions (but limiting the amount of people at each session) so we can continue to maintain socially distanced guidelines and keep people safe.
Covid-19 has also meant that we have had to work differently and at some points we have held zoom meetings instead of meeting in person.
What advice would you offer to anybody looking to apply next year?
Go for it! If you have an innovative idea that will help tackle waste prevention and promote recycling this is a fantastic opportunity to bring your ideas to life and make a positive difference.
Anything else you would like to add?
Thank you for supporting us with this grant. The Green Superheroes Project is an amazing project which has enabled us to work in co-production with people with learning disabilities to tell more people about recycling and create a positive change.