Keeping on the topic of  reusable nappies,  here is a  blog from  Baba+Boo reusable nappy convert, Worsley Mum, Christabel.  Her 16 month old boy called Bruno has been in reusables since 14 days old!  Also she is expecting baby number 2 in August who will be following in the footsteps  of his/her brother. Here is Christabel's story about why she chose to go reusable.  
I have always been environmentally conscious but over the last few years my husband and I have been making a conscious effort to be more 'green'. We decided before we were pregnant that reusable nappies were something we wanted to look into for both environmental and natural/kinder to bum reasons.
Other people that I spoke to dampened my spirits. When we said that we were going to look into it, we got some very negative reactions. Mainly because people are so used to the idea of disposable being the norm they said it would be much more work and it would be disgusting washing poopy nappies!
I think many people aren't aware how far reusable nappies have come, they are so much better than the traditional terry towel and safety pin set up!
With Bruno we gave into pressure from friends family who said don't start reusable with a newborn and I would really regret it. We used the most eco disposable nappies we could find but I still hated the thought of them going in my general waste bin.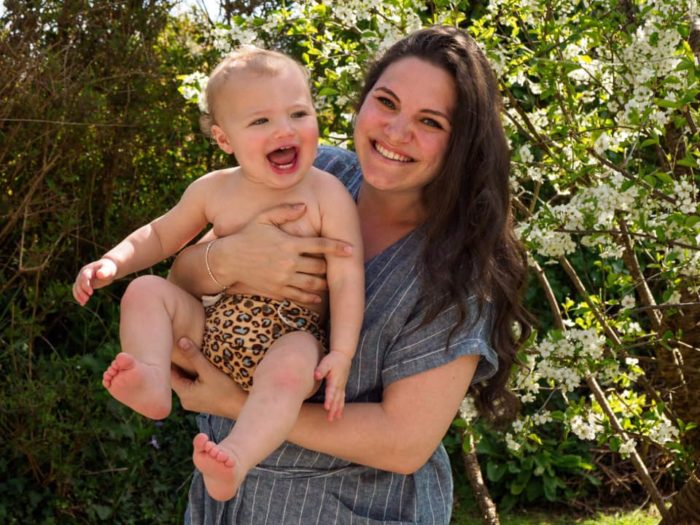 But getting started was easy. We started off with newborn Velcro nappies when Bruno was about two weeks old, so putting them on was pretty similar to disposable nappies.
It took us a while to get the fit right and we had a few leaks but nothing major. We quickly got into a good washing/drying routine and reusable nappies just fitted into our lives.
There are so many things I love about reusable nappies and wipes! There's the positive environmental impact, I couldn't imagine putting thousands of nappies in the general waste bin. It makes me sad to think that nappies I wore 30 years ago are still on this planet. Times have changed.
I love the appearance! There's an amazing variety of prints, much more exciting than reusables – plus I love Bruno's big fluffy cloth bum!
Then there's the money-saving. By the time our second baby is out of nappies we estimate we will have saved over £3,000! We bought a mixture of new and secondhand nappies, they can be used on multiple children and if in good condition they have a high resale value.
And there's a ripple effect. I'm the first of my friends or family to go reusable and I love the interest people have shown in them. Many people don't consider reusable nappies and wipes as they aren't 'the norm' but seeing us use them so easily has convinced others to give it a go.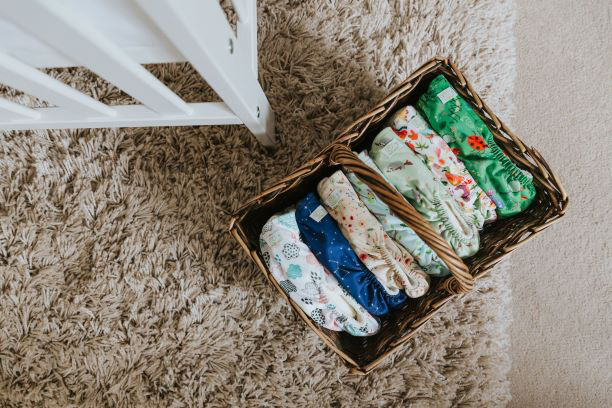 Overall, it's easier than I thought to use reusable nappies. Becoming parents for the first time was such a big life alteration anyway that one extra change didn't make a difference. A common misconception is your house will smell but it is totally the opposite. We have a nappy bin in our living room that doesn't smell at all, whereas I once opened the bin at a play centre where single use nappies were put and the smell was overwhelming…yuk!
The main thing that is much better than expected is containment; we have never had a dreaded 'poonami'. Friends that use disposable nappies warned me of poo explosions up the back but we have never had it.
We are due our second baby in August and I am so excited to get them straight in reusables. I have bought mostly secondhand newborn nappies and after a few months the new baby will move into the same BTP (Birth To Potty/one size) nappies that Bruno uses. Reusables  are kinder to babies skin, the environment and our pockets! I couldn't imagine going back to disposables nappies now!