Here are 3 ideas from our guest blogger, Abbie at Plentiful on how to celebrate this Easter – the plastic-free way.
Each year, many of us see Lent as a time to 'give up' something we know we do or consume a lot of. It has extended as a tradition and challenge for many people to take part in and (almost!) enjoy.
In March, I posted why giving up plastic for Lent can be tricky and result in feelings of pressure and failure (trust me, I tried many times!). The best way to actually reduce our plastic waste and live with less impact is to do it gradually, during all seasons and all special occasions.
So, whether you did quit plastic for Lent, or you're on the journey bit by bit – here are my top ways to celebrate Easter with friends and family a little more sustainably.
1.Painting real eggs
Opt for paint you already have or use food colouring so they're safe to put in your food and garden bin after Easter. Don't forget to boil them first…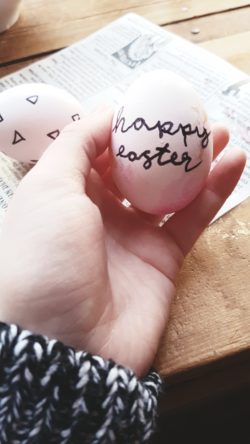 2. Buying Easter eggs
It's estimated that 80 million Easter eggs are bought in the UK each year, resulting in 3,000 tonnes of packaging (WRAP, 2017).
Most of these will come with a  plastic 'window' on the box, or will have a plastic egg holder  and a nifty packet of your favourite plastic wrapped minis which can't be recycled in your mixed recycling bin at home.
Fear not, there are chocolate eggs on the market which will only have card or foil packaging. Plentiful for example is stocking organic Montezuma Eco Eggs – with 100% recyclable card and foil wrap.
If you've bought your eggs already, but unsure whether the packaging can be recycled – try the following…
With the card packaging, if you can rip it, you can recycle it.
With foil, the simple scrunch test will tell you if it's really foil made of aluminum and not silver plastic. If it pops back open after scrunching it in your hand –  (such as  sweet packets and decorative foil) – they can't be recycled in your mixed recycling bin. If it holds the scrunched shape like tin foil would – it can be recycled!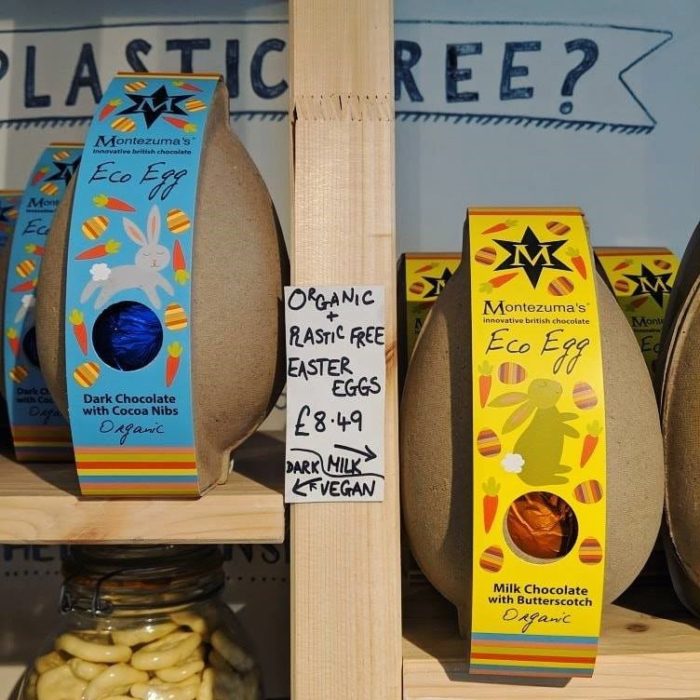 3. Make Your Own Sweet Treats!
The most fun you can have is to make your own Easter eggs – buy loose chocolate if you're fortunate to have a plastic free shop near you, or buy a good quality bar from most supermarkets. One Easter egg mould can be used again and again every year, saving you pennies and making the perfect handmade, thoughtful gift.
Hot cross buns are my favourite bit of Easter. So easy to make and beautiful when fresh out of the oven. You can pick up all the dry ingredients ready to go and plastic free at Plentiful, and the rest are cupboard ingredients. No plastic wrap in sight.