You don't have to be a 'crafty' person or have a stash of buttons, sequins, bells and whistles to get crafty this Christmas. Here are 3 decorations you can make in 15 minutes or less using items lying around your house.
Mini Christmas card garland (glue free and will keep the kids busy)
What you will need: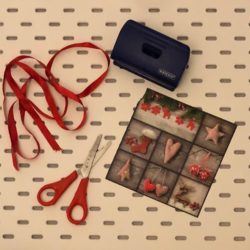 Christmas cards from last year
hole-punch
ribbon/string
scissors
Step 1 Choose some pictures to cut out of the Christmas cards. These can be anything you fancy, from reindeer and Santa to snowflakes.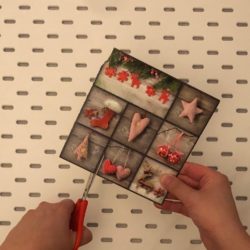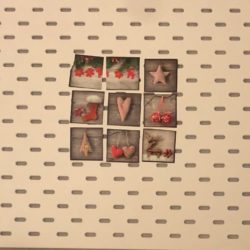 Step 2 Using a hole-punch, punch two holes at the top of each of the shapes.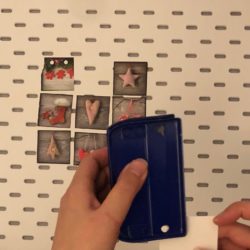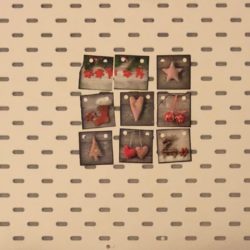 Step 3 Start stringing them up on a ribbon (from last year's present) or a piece of string.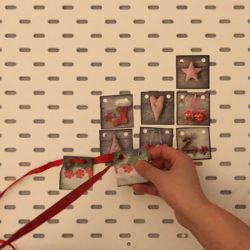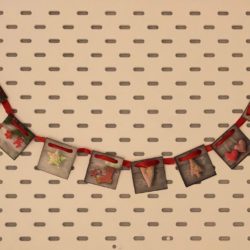 Step 4  Keep going! Until you are happy with the length and then hang it up!
Bottle top wreath (A great way of using the bottle tops you can't recycle)
What you will need: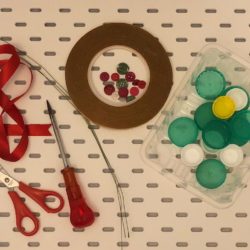 bottle tops (approx. 12)
buttons or any other bits and pieces for decoration
bradawl tool (anything pointy from the toolbox will do)
double-sided tape
ribbon/string
scissors
thin wire
Step 1 Pierce two holes on the bottle tops using a pointy tool, make sure the holes are opposite each other. Once you have done that, grab the end of one of your wires and fold it a couple of times (this will stop the bottle tops from falling off).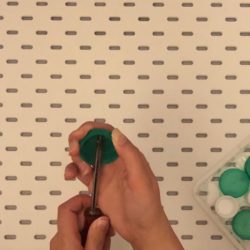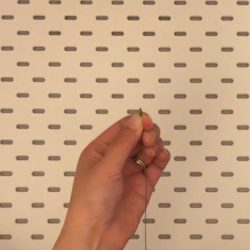 Step 2 Now you are ready to string the bottles tops onto the wire, in through one hole and out the other. When you are happy with the length, bend the wire around into a circle and secure the end of the wire by twisting it around the other end of the wire. Trim off any extra wire.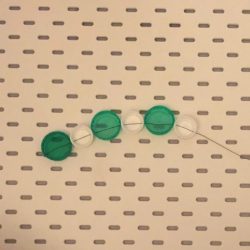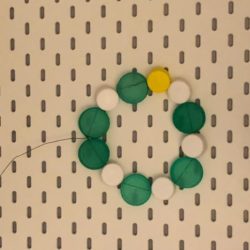 Step 3 You are now ready to decorate! You can use all sorts of things, sequins, pom poms, buttons… Cut the double sided tape to size and stick at the back of the button.  Peel off the paper and stick button in place. Repeat until you are happy with the decorations.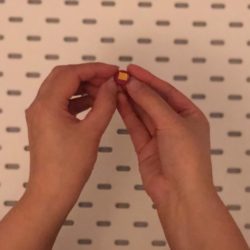 Step 4 Tie on a ribbon and your bottle top wreath is complete!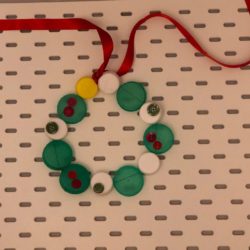 Tram ticket bauble (Find plenty of these stuffed in your wallet)
What you will need: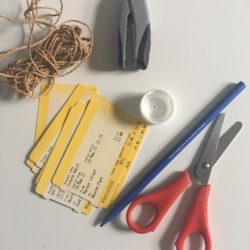 bottle top
pencil
ribbon/string
tram/train tickets (approx. 17)
stapler with staplers
scissors
Step 1 – Fold each tram ticket per image below.  Fold in half (back of the tram ticket facing you). Open out and fold each of the four corners to meet the folded line. Turn tram ticket over and you should have a diamond-ish shape. Repeat until you have 16.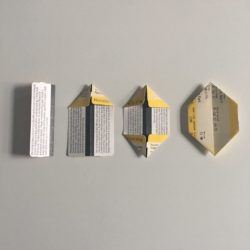 Step 2 – Place one tram ticket on top another (back to back). Staple three sides as shown. Lift the bottom of the top tram ticket and place another tram ticket on top and repeat with the stapling. When you have stapled the tram tickets together (should look like an accordion) staple the first tram ticket to the last tram ticket in the same way and you should have something like…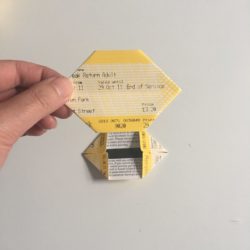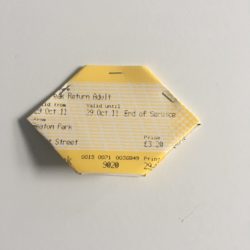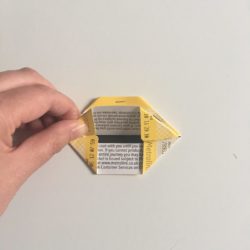 Step 3 – this!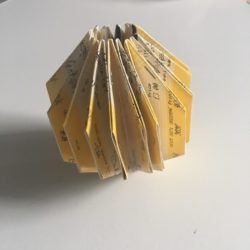 Step 5 – Use the bottle top to draw a circle on a tram ticket. Cut the circle out and pierce a small hole in the middle. String a piece of string or ribbon (with a knot at the end) through it.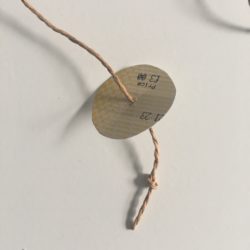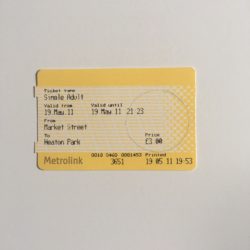 Step 6 –  To finish, string the bauble. Your tram bauble is ready to hang onto your Christmas tree!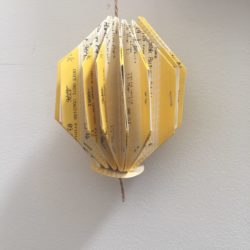 Have a go at these crafts, we would love to see them! Share your creations with us on Facebook, Instagram or Twitter.
Don't miss our next blog all about tips for the tip. Sign up to our newsletter and get updates straight to your inbox!